Order of Colin Watson Books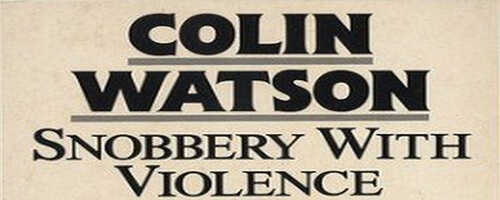 Colin Watson was a British writer of detective fiction who was best known for his creations Inspector Purbright and Lucilla Teatime. He was also the author of the Flaxborough series which took place in a fictional small town in England. Four of those books were adapted by the BBC under the title Murder Most English.
Watson was born in 1920 in Croywdon, Surrey. He would go on to work as a journalist in Lincolnshire and many of the characters in his books are inspired by people he met during this work. He is also known for being the first author to sue Private Eye, a magazine, for libel and was awarded £750. Watson died in 1983 at the age of 62.
Publication Order of Flaxborough Chronicles Books
| | | |
| --- | --- | --- |
| Coffin, Scarcely Used | (1958) | |
| Bump in the Night | (1960) | |
| Hopjoy Was Here | (1962) | |
| Lonelyheart 4122 | (1967) | |
| Charity Ends at Home | (1968) | |
| The Flaxborough Crab | (1969) | |
| Broomsticks Over Flaxborough | (1972) | |
| The Naked Nuns | (1975) | |
| One Man's Meat | (1977) | |
| Blue Murder | (1979) | |
| Plaster Sinners | (1980) | |
| Whatever's Been Going On at Mumblesby? | (1982) | |
Publication Order of Non-Fiction Books
If You Like Colin Watson Books, You'll Love…
Coffin, Scarcely Used is the first book in the Flaxborough Mystery series. The book starts with a respected councilor named Harold Carobleat who dies of pneumonia. Shortly thereafter, his neighbor, the former newspaper owner Marcus, also ends up dead. Detective Inspector Purbright is put onto the case and he believes that there is foul play here. Now, Purbright is looking to find what the connection is between the two men and how they are connected to a small group of other well-to-do people in town. He'll work off a clue of some oddly named antique items that were being advertised in Marcus' Citizen paper.
Another good book in the series is Lonelyheart 4122. This one sees D.I. Purbright and his reliable Sergeant Sid Love as they look into the case of a missing woman named Lilian Bannister. It turns out that she is the second woman in town to go missing and both had connections to a lonely hearts agency called Handclasp House. Now, a woman named Lucy Teatime signs up for a romantic time with Handclasp House and the detectives decide to look out for her, but she ends up being a lot more than meets the eye.
Order of Books » Authors »