Order of Crissy Smith Books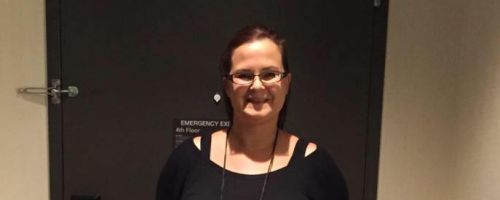 Crissy Smith is an American author of paranormal romance novels. She writes the Were Chronicles series. She has a day job where she can be found buried under a stack of papers, but by night, she is at her computer creating stories for her readers. Crissy has always been interested in the paranormal, including shifters, witches and vampires. Crissy lives in Texas with her husband, daughter, and three Labs.
Crissy Smith made her debut as a published author in 2008 with the novella Bite Me!. She published several novels the next year. Below is a list of Crissy Smith's books in order of when they were first released:
Publication Order of Corporate Wolves Books
Publication Order of Were Chronicles Books
Publication Order of Secrets Books
Publication Order of Shifter Chronicles Books
Publication Order of What's Her Secret? Books
Publication Order of Bloodlines Books
Publication Order of Sin City Books
(with Athena Steller)
Publication Order of Standalone Novels
Publication Order of Short Stories/Novellas
If You Like Crissy Smith Books, You'll Love…
Crissy Smith Synopses: Lacey's Seduction is a standalone title by Crissy Smith. One seduction leads to another as two people fight to come together. Lacey seduces Brent Wilson after careful planning. Everything seems to go according to plan… until he gets up and leaves, breaking her heart in the process. Brent knows he messed things up with Lacey. He has to make things up to her. Using her feelings for him, he sets out to return the seduction. Will they find their way to each other or end up destroying each other's hearts?
Summers' Girls is a standalone novel by Crissy Smith. The summer heat isn't the only thing causing Hannah Wagner's temperature to soar – half-naked carpenter Jake Summers is doing more than his part. Hannah Wagner needs a place to relax and escape everyday life – and the summer home of her childhood fits is just what the doctor ordered. She's shocked and a little uneasy by the instant sexual attraction she finds with the carpenter who is working on renovating the house. Hannah fights her attraction to Jake Summers, but when she finds him skinny dipping in the lake behind her house, it only increases her desire. But Hannah is not only looking for a break from her life, she is running from a troubled past and a dangerous ex-husband. When Hannah's ex shows up and threatens her, Jake calls in his old Special Forces team to help. He is determined to bring the man down… and cement the fact that Hannah is Jake Summers' girl.
Order of Books » Authors » Order of Crissy Smith Books