Order of David J. Gatward Books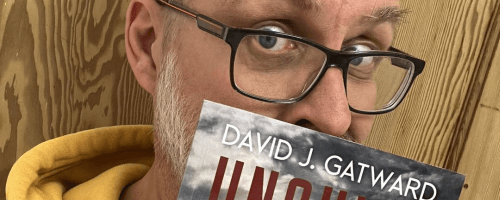 David J. Gatward is an English author of crime fiction novels. He writes the DCI Harry Grimm series. David was born in the Cotswolds and grew up in Wensleydale and Lincolnshire, where he developed a love of reading and writing. His first book was published when he was eighteen, and he went on to work in publishing, become a dad, and write children's and teen fiction. He also ran a small publishing firm before the pandemic hit, and he returned to writing, taking up crime fiction on the advice of writing friends. Gatward's experiences and love of the Yorkshire Dales inspired his DCI Harry Grimm crime series.
David J. Gatward made his debut as a crime novelist in 2020 with the novel Grimm Up North. Below is a list of David J. Gatward's books in order of when they were originally released:
Publication Order of DCI Harry Grimm Books
| | | |
| --- | --- | --- |
| Grimm Up North | (2020) | |
| Best Served Cold | (2020) | |
| Corpse Road | (2020) | |
| Shooting Season | (2021) | |
| Restless Dead | (2021) | |
| Death's Requiem | (2021) | |
| Blood Sport | (2021) | |
| Cold Sanctuary | (2021) | |
| One Bad Turn | (2022) | |
| Blood Trail | (2022) | |
| Fair Game | (2022) | |
| Unquiet Bones | (2022) | |
| The Dark Hours | (2023) | |
| Silent Ruin | (2023) | |
Publication Order of Padre Books
If You Like David J. Gatward Books, You'll Love…
David J. Gatward Synopses: Grimm Up North is the first DCI Harry Grimm novel by David J. Gatward. In Bristol, England, DCI Harry Grimm bears physical and emotional scars from a traumatic encounter with an IED. However, his relentless pursuit of his murderous father threatens to hinder an ongoing investigation, prompting a transfer to the countryside of North Yorkshire, much to his dismay. With a burning desire to escape mundane tasks like ticketing and rescuing lost lambs, Grimm deliberately sets out to distance himself from the locals. But his perspective changes when a teenager goes missing.
Drawing from his knowledge of the gruesome world of human trafficking, Grimm suspects the worst for the victim. When he and his team uncover a shocking revelation, his gut feeling warns him of a special breed of criminals who could be living among them.
Can the tough and determined investigator catch his prey before the town suffers a devastating loss?
Best Served Cold by David J. Gatward is the second DCI Harry Grimm book. In the peaceful countryside of North Yorkshire, England, Detective Chief Inspector Harry Grimm is slowly adapting to the slower pace of life while waiting to return to the city. However, his peace is shattered when he is called to investigate the death of a farmer, initially dismissed as an accident by the on-site doctor. Grimm becomes suspicious when evidence suggests foul play.
Despite the lack of witnesses and suspects, the determined investigator rallies his team into action when a second body is discovered. With a single gruesome clue linking the two victims and the village in a self-imposed lockdown, Grimm sets out to find a deadly connection that could lead to murder.
Can the seasoned city cop prevent the idyllic countryside from turning into a cemetery of death?
Corpse Road is book 3 in the Harry Grimm series by author David J. Grimm. DCI Harry Grimm is still adjusting to the customs of the Yorkshire Dales, including the unusual practice of eating cheese with cake. However, as a seasoned big-city cop, he has dealt with enough gruesome crimes to be unfazed when a woman's savaged remains are discovered in the early hours on the bleakly beautiful terrain.
With a clear motive and a likely offender in his sights, the determined detective relentlessly pursues the killer. But when the prime suspect vanishes and Grimm re-evaluates the crime scene, he suspects a meticulously planned military operation and a perpetrator with a long history of victims.
Can the tough investigator outsmart the killer before they strike again?
Order of Books » Authors »