Order of David Roberts Books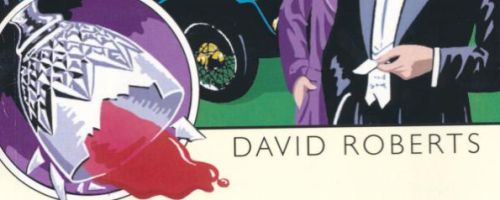 David Roberts is an English novelist of historical mystery novels, in addition to being an editor. He writes the Lord Edward Corinth and Verity Browne series. David has edited for such publishers as Chatto and Windus, Weidenfeld & Nicolson, and Michael O'Mara Books. As a novelist, his work builds off of historical events, and are well-researched. David splits his time between London and Wiltshire, England.
David Roberts made his debut as a published author in 2000 with the novel Sweet Poison. Below is a list of David Roberts' books in order of when they were originally released:
Publication Order of Lord Edward Corinth and Verity Browne Books
| | | |
| --- | --- | --- |
| Sweet Poison | (2001) | |
| Hollow Crown | (2002) | |
| Bones of the Buried | (2002) | |
| Dangerous Sea | (2003) | |
| The More Deceived | (2004) | |
| A Grave Man | (2005) | |
| The Quality of Mercy | (2006) | |
| Something Wicked | (2007) | |
| No More Dying | (2008) | |
| Sweet Sorrow | (2009) | |
If You Like David Roberts Books, You'll Love…
David Roberts Synopses: Sweet Poison by David Roberts is the first book in the Lord Edward Corinth and Verity Browne series. It is August 1935 and the Duke of Mersham is hosting one of his influential parties, bringing together public figures interested in improving Anglo-German relations. One of his guests is General Sir Alistair Craig VC, who swallows poison in the duke's excellent port and dies just as latecomer Lord Edward Corinth and journalist Verity Browne arrive on the scene. The unlikely pair – the younger son of a duke and a journalist committed to the Communist Party find common ground as they seek for the truth behind the general's murder and discover that everyone present – including the duke himself – had a motive for wanting Sir Alistair out of the picture.
Bones of the Buried by David Roberts is book 2 in the Corinth & Browne series. Lord Corinth returns to London after six months in New York to find his sleuthing partner, journalist Verity Browne, Insisting he investigate a murder in Madrid. It is 1936 and Spain is about to erupt into civil war. Verity is now correspondent for a national newspaper and passionately committed to defending the Spanish republic against the Fascist threat. Her lover, David Griffiths-Jones, a senior figure in the Communist Party, has been convicted of murder and Verity appeals to Edward to help save him from the firing squad, even though she knows he sees him as his rival in love.
Order of Books » Authors » Order of David Roberts Books