Order of David Thorne Books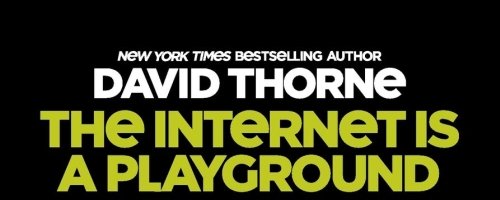 David Thorne is an Australian humorist who has posted numerous books collecting his stories and essays. The best known of these is The Internet is a Playground which features humorous email exchanges and stories from his life. He first went viral in 2008 with one of his email exchanges where he tried to pay an overdue bill with a drawing of a seven-legged spider.
David Thorne's online home is 27blash6.com where he posts most of his work. The website is a reference to to George Orwell's address – Apartment 6, 27B Canonbury Square, Islington London. The site has a large following and gets well over 50,000 hits per day. While he used to live in Australia, Thorne has since moved to the United States. and he has appeared on numerous talk shows including Last Show with David Letterman, Late Night with Conan O'Brien, and the Ellen DeGeneres Show.
Publication Order of Standalone Novels
| | | |
| --- | --- | --- |
| I'll Go Home Then, It's Warm and Has Chairs. The Unpublished Emails. | (2012) | |
| The Internet is a Playground | (2014) | |
| Look Evelyn Duck Dynasty Wiper Blades. We Should Get Them | (2014) | |
| That's Not How You Wash a Squirrel | (2015) | |
| Wrap It In A Bit of Cheese Like You're Tricking The Dog | (2016) | |
| The Collected Works of 27B/6 | (2016) | |
| Walk It Off, Princess | (2017) | |
| The Ducks in the Bathroom Are Not Mine | (2017) | |
| I Wont Be Coming Into Work Today Because You're All Dickheads | (2019) | |
| Burning Bridges to Light the Way | (2019) | |
If You Like David Thorne Books, You'll Love…
The Internet Is a Playground features some of Thorne's most classic viral stories including "Missing Missy". In that story a woman emails him asking for help finding her missing cat and David replies to her with some of the worst help imaginable in a hilarious way. Thorne considers himself to be a satirist and the book is filled with pranks, hoaxes, and even a sting in jail. This book is considered a hilarious read.
Another great collection by Thorne is Walk It Off, Princess. This book features his typical humorous collection of stories, but this one is tinged with an added message about appreciating the joys in life and the people that we love. Thorne has a keen eye for life's absurdities and puts them on full display here. He even manages to show some vulnerability here which makes this one of his best collections.
Order of Books » Authors »