Order of Doris Kearns Goodwin Books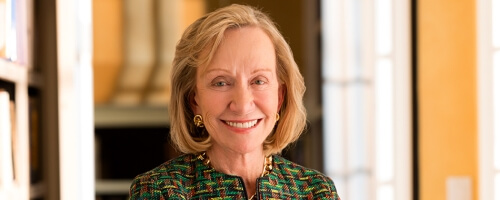 Doris Kearns Goodwin is an American author who is best known for the Pultizer Prize winning No Ordinary Time: Franklin & Eleanor Roosevelt: The Home Front in World War II. In addition to writing books, she has also worked as a sports journalist and a political commentator.
Goodwin was born in Brooklyn, New York and grew up as a big fan of the Brooklyn Dodgers. She wrote about this in her memoir, Wait Till Next Year. He would later work as a sports journalist and would become the first female journalist to enter the Boston Red Sox locker room in 1979. She would later appear as a talking head in Ken Burns' Baseball. After growing up in New York, she would go on to attend olby College in Maine before finishing her Ph.D in government from Harvard Universtiy.
Publication Order of Standalone Novels
| | | |
| --- | --- | --- |
| Lyndon Johnson and the American Dream | (1976) | |
| The Fitzgeralds and the Kennedys | (1987) | |
| No Ordinary Time | (1994) | |
| Wait Till Next Year | (1997) | |
| Team of Rivals | (2005) | |
| The Bully Pulpit | (2013) | |
| Leadership: In Turbulent Times | (2018) | |
If You Like Doris Kearns Goodwin Books, You'll Love…
Wait Till Next Year: A Memoir is Doris' love letter to growing up in Brooklyn and her love for her family and baseball. The book talks about her mother who instilled in her a love of books and her father who instilled in her a love of baseball. That love was symbolized by the Brooklyn Dodgers of the 1950s with players like Jackie Robinson, Roy Campanella, Pee Wee Reese, Duke Snider, and Gil Hodges. The story follows her youth until the Brooklyn Dodgers would move west, which was the end of an era in more ways than one.
Leadership: In Turbulent Times is Doris' drawing upon the Presidents that she has studied most closely and showing how they recognized leadership qualities within themselves and were recognized as leaders by others. This book tells the story of Abraham Lincoln, Theodore Roosevelt, Franklin D. Roosevelt, and Lyndon B. Johnson, and how they confronted the contours and dilemmas of their times in their own unique ways.
Order of Books » Authors » Order of Doris Kearns Goodwin Books