Order of Dorothy Simpson Books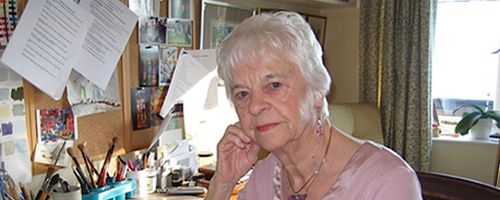 Dorothy Simpson is an English mystery writer and the creator of the popular Inspector Thanet series of books. She's a former winner of the Silver Dagger Award in her 20+ year career as an author.
Dorothy was born in South Wales and went on to attend university at Bristol University. After graduation, she moved to Kent where she worked as a French teacher. Towards the end of that career she would meet her husband and marry in 1961. She would then spend a long time working as a marriage counselor until her writing career took off. Her first work, a standalone novel, was published in 1977. She had trouble getting published after that and decided to focus on creating a memorable character. That character was Insepctor Thanet and the rest, as they say, is history.
Publication Order of Inspector Thanet Books
| | | |
| --- | --- | --- |
| The Night She Died | (1980) | |
| Six Feet Under | (1982) | |
| Puppet For A Corpse | (1982) | |
| Close Her Eyes | (1984) | |
| Last Seen Alive | (1985) | |
| Dead on Arrival | (1986) | |
| Element of Doubt | (1987) | |
| Suspicious Death | (1988) | |
| Dead By Morning | (1989) | |
| Doomed To Die | (1991) | |
| Wake the Dead | (1992) | |
| No Laughing Matter | (1993) | |
| Day for Dying | (1995) | |
| Once Too Often | (1998) | |
| Dead and Gone | (1999) | |
Publication Order of Standalone Novels
Publication Order of Non-Fiction Books
If You Like Dorothy Simpson Books, You'll Love…
The Night She Died is the first Inspector Thanet book. This book introduces to the Luke Thanet, a whip-smart detective with a soft heart. He doesn't like to jump to conclusions in his work so when he is given a case of a murdered woman wearing her overcoat and her purse missing, he doesn't think the obvious. There is far more to the story than the missing purse and a lot to unravel in the first entry in this series.
One of the most beloved books in the series is Dead on Arrival. In this one, Thanet is given the case of a man found dead in his bed. The man had quite the reputation and the list of suspects is long as he was not a very popular man. This book is beloved by Thanet fans as it gives a peak into his home life as well as his relationship with his sargeant.
Order of Books » Authors »