Order of Dudley Pope Books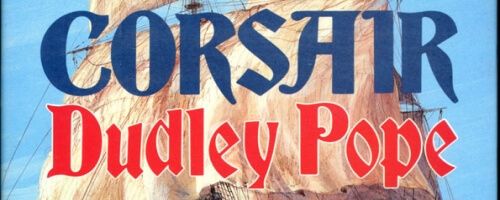 Dudley Pope was a British author who was best known for his Lord Ramage series of historical fiction novels. He also delved heavily into nautical fiction and is one of the best known authors of that genre in his time.
Pope wrote so much about the sea because he was a sailor. He concealed his age and joined the merchant marines at the age of just 16. In 1942, the ship he was on was actually torpedoed. He managed to stay alive on a lifeboat for another two weeks with the other survivors before his rescue. He was invalided out of the navy at this time and went to work for newspapers where he would write about naval and defense affairs of the time. It wasn't long after this that he began writing novels and he published his first history book, Flag 4 in 1954. He was then encouraged by C.S. Forester to write fiction which he would have great success with.
Pope was never discouraged from the sea after his torpedo attack and began living on boats in 1953, and would live on them for much of his life afterwards. Pope passed away in 1997 in Saint Martin. He was survived by his wife and daughter.
Publication Order of Nicholas Ramage Books
Publication Order of Buccaneer Ned Yorke Books
Publication Order of Standalone Novels
Publication Order of Non-Fiction Books
If You Like Dudley Pope Books, You'll Love…
Ramage is the first book in the Lord Ramage series. This book features Ramage sailing his tiny clutter right under the nose of the French Mediterranean fleet to save a party of stranded aristocrats. The move will take skill and daring to avoid Napoleon's advancing army.
Another great book in the series is Governor Ramage R.N. This book features Lord Ramage escorting a convoy from Barbados to Jamaica in what is seemingly a boring job. It ends up being anything but when the cargo turns out to be a family of important French refugees.
Order of Books » Authors » Order of Dudley Pope Books