Order of Elie Wiesel Books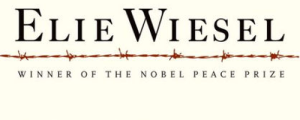 Elie Wiesel was a Romanian-American author, professor, and political activist. He was a Holocaust survivor and wrote over fifty books during his life. Elie is best known as the the author of Night which was based on his own experiences as a Jewish prisoner during the Holocaust at the Auschwitz and Buchenwald concentration camps.
Wiesel also served as a professor of humanities at Boston University. In 1986, he was awarded the Nobel Peace Prize for his struggle in the concentration camps and his work afterward in helping to bring peace to the world. His commitment to peace started with his own people, but he ended up embracing all repressed peoples and races.
Publication Order of The Night Trilogy Books
Publication Order of Standalone Novels
Publication Order of Plays
Publication Order of Collections
Publication Order of The Memoirs Books
Publication Order of Non-Fiction Books
Publication Order of Jewish Encounters Books
Publication Order of Anthologies
If You Like Elie Wiesel Books, You'll Love…
Night is the first book in the Night trilogy. The book is a gruesome accounting of the experiences at Nazy Germany death camps. The story is told form the perspective of 14-year-old Eliezer from the small town of Sighet. The people in the town did not believe the stories of anti-Semitic atrocities, even as they were in cattle cars on their way to Auschwitz. As they arrive, the awful truth sinks in. Wiesel's classic back recounts all of the evils of the Holocaust. It also asks how mankind could allow something like this to happen while also questioning if it could happen again.
Dawn is the second book in the series and follows a young Jewish man named Elisha who fights for Isreali freedom in British-controlled Palestine. Elisha will murder an English officer named John Dawson at dawn as retribution for the death of another Israeli freedom fighter. The story is told hour-by-hour as Elisha wrestles with guilt, ghosts, and God before he will commit the act of murder. Wiesel's novel is a meditation on the compromises, justifications, and sacrifices people make when taking other lives.
Order of Books » Authors » Order of Elie Wiesel Books