Order of Elizabeth Briggs Books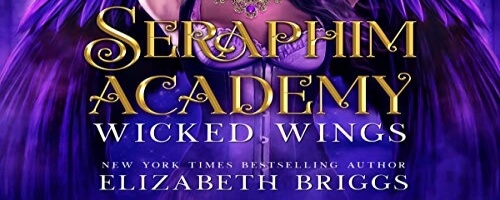 Elizabeth Briggs is an American author best known for writing the Claimed by Lucifer series, the Seraphim Academy series, and the Her Elemental Dragons series. She writes page-turning romance in a variety of genres, from fantasy romance to contemporary romance.
Briggs attended the University of California – Los Angeles where she graduated with a degree in sociology. After college she would go on to work for an international law firm, but the love of writing called to her. She has done charity throughout her life, helping to mentor teens in writing as well as volunteering at her local dog rescue groups. Elizabeth is married with a child and dogs. The family lives in Los Angeles.
Publication Order of Chasing the Dream Books
Publication Order of Claimed By Lucifer Books
Publication Order of Future Shock Books
Publication Order of Her Elemental Dragons Books
Publication Order of Royal Hearts Books
Publication Order of Seraphim Academy Books
Publication Order of Zodiac Wolves: The Lost Pack Books
Publication Order of Standalone Novels
If You Like Elizabeth Briggs Books, You'll Love…
Demon King is the first book in the popular Claimed by Lucifer series. The book sees a sweet woman named Hannah who is forced to go to the King of Sin City after her best friend goes missing in one of his hotels. The Kng of Sin City is Lucas, a billionaire playboy, who just so happens to be Lucifer. In order to get her friend back safely, Hannah will make a deal with the devil for seven sinful nights. A modernist take on the Hades and Persephone story with a devil twist.
Briggs is also the author of the Royal Hearts series which starts with Beauty in Darkness. The story sees Princess Rose being forced to marry a brooding wizard king and being whisked away to his castle without a chance to say goodbye to her family. Her new home holds secrets that could be deadly to all with her mysterious husband at the center. King Raith has no interest in falling in love again after what happened to his last wife, but he finds her harder and harder to resist as he spends more time with her. He wants to keep her from the truth of the curse while she is determined to find out more about it, to save the kingdom they must team up and find a way to stop it together.
Order of Books » Authors » Order of Elizabeth Briggs Books