Order of Emile Zola Books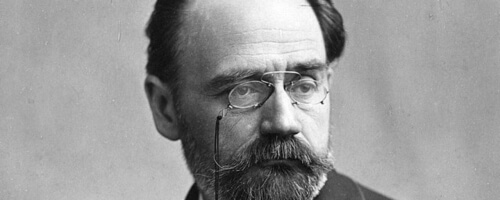 Emile Zola was a French novelist, playwright, and journalist. He is well known as the self-proclaimed leader of the literary school of French naturalism. Zola's naturalism is a style that traces philosophically to Auguste Comte's positivism, but also to physiologist Claude Bernard and historian Hippolyte Taine. His book, The Experimental Novel is considered a naturalistic novel and one of the key works of the style. His writing helped to inspire the concepts of heredity, social Manicheanism, and idealistic socialism,
Zola started working in the sale department for the publisher Hachette and that lead to him writing for them eventually. One of his early works, a sordid autobiographical novel called La Confession de Claude, attracted police attention that lead to him being fired from Hatchette. His breakout novel was called Thérèse Raquin and shortly after its release he started the series called Les Rougon-Macquart that would make up more than half of his literary output.
Publication Order of Four Social Romances Books
Publication Order of Rougon-Macquart Books
Publication Order of Three Cities Books
Publication Order of Standalone Novels
Publication Order of Short Stories/Novellas
Publication Order of Collections
Publication Order of Non-Fiction Books
Publication Order of Anthologies
If You Like Emile Zola Books, You'll Love…
The Belly of Paris is considered to be one of his classic works. The book follows Florent Quenu who is deported to Devil's Island following Louis-Napoleon's coup-d'état in December 1851. Quenu escapes and make his return to Paris, only to find the city unrecognizable as it has changed so much since he left. He finds that the world has great food and the society has devolved into a devotion to food and government so he decides to attempt an an insurrection.
Another classic is called The Ladies' Paradise. This story recounts the development of the modern department store in late nineteenth century Paris and how that store has become the symbol of capitalism, the modern city, and the bourgeois family. Octave Mouret is the store's owner-manager who exploits the desires of his female customers for his own gains. Things change when he falls in love with the innocent Denise Baudu, but she is the only one who won't be commodified.
Order of Books » Authors » Order of Emile Zola Books