Order of Frederik Pohl Books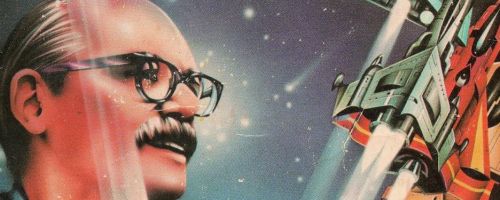 Frederik Pohl is an American author of science fiction whose work has spanned over 70 years. In 1993, he was named a Nebula Grand Master and was inducted into the Science Fiction Hall of Fame in 1998. He started out editing pulp magazines, writing stories for them that would appear under pen names. Frederick would frequently collaborate with Cyril M. Kornbluth, Jack Williamson, Dirk Wylie and Robert A.W. Lownes. Pohl also acquired and edited novels for Bantam Books in the 1970s. Frederik lives in the Chicagoland area.
Pohl's first published work was the 1937 short story Elegy to a Dead Planet: Luna. His first novels were published in 1954 – Undersea Quest and Search the Sky. He has remained active throughout all of these decades, up to the 2011 novel All the Lives He Led. Below is a list of Frederik Pohl's published works in order of when they were originally published:
Publication Order of Space Merchants Books
Publication Order of Undersea Eden Books
Publication Order of Starchild Books
Publication Order of Saga Of Cuckoo Books
Publication Order of Heechee Books
Publication Order of Heechee Collections Books
Publication Order of Eschaton Books
Publication Order of Standalone Novels
Publication Order of Short Stories
Publication Order of Short Story Collections
Publication Order of Graphic Novels
Publication Order of Non-Fiction Books
If You Like Frederik Pohl Books, You'll Love…
Notes: The Space Merchants, Search the Sky, Gladiator-at-Law, Presidential Year, Wolfbane, The Wonder Effect, Before the Universe and Our Best were co-authored with C.M. Kornbluth. Mars Plus was co-authored with Thomas T. Thomas. The Last Theroem was co-authored with Arthur C. Clarke. The Future Quartet also contains contributions by Ben Bova, Jerry Pournelle and Charles Sheffield. Lest Darkness Fall & Related Stories also contains contributions from L. Sprague de Camp, David Drake and S.M. Stirling. Our Angry Earth was co-authored by Isaac Asimov.
The series Undersea Eden, Starchild and Saga of Cuckoo, plus the novels Land's End and The Singers of Time were co-authored by Jack Williamson. Tales from Planet Earth was co-authored by Lino Aldani, Brian Aldiss, Karl-Michael Armer, Jon Bing, Andre Carneiro, A. Bertram Chandler, Ljuben Dilov, Tong Enzheng, Carlos Maria Federici, Harry Harrison, Elizabeth Anne Hull, Sam J. Lundwall, Josef Nesvadba, Spider Robinson, Tetsu Yano, Ye Yonglie and Janusz A. Zajdel.
A Plague of Pythons was also published under the title Demon in the Skull. Preferred Risk was originally published using the pen name Edson McCann.
Shop Worldwide: Amazon.com | Amazon.co.uk | Amazon.ca
Order of Books » Authors » Order of Frederik Pohl Books