Order of Gayle Leeson Books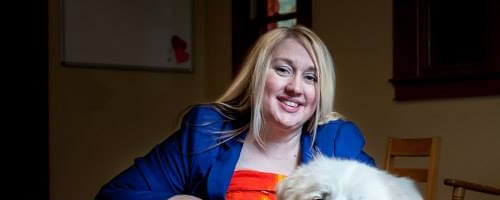 Gayle Leeson is an American author. The name Gayle Leeson is actually a pen name for the author named Gayle Trent. She also writes books under the name Amanda Lee. Under the name of Gayle Leeson, she writes the Down South Cafe mystery series, the Ghostly Fashionista mystery series, and the Kinsey Falls women's fiction series of books.
Gayle got her start writing for smaller presses, but later came to realize that she could make more money if she did her own publishing. She was doing all the writing and promoting herself anyways so she started the Grace Abraham Publishing company that she now publishes all her work on. Gayle lives in Virginia with her family.
Publication Order of Down South Café Mystery Books
Publication Order of Ghostly Fashionista Mystery Books
Publication Order of Kinsey Falls Books
Publication Order of Standalone Novels
Publication Order of Victoria Square Mystery Books
Publication Order of Anthologies
If You Like Gayle Leeson Books, You'll Love…
The Calamity Cafe is the first book in the Down South Cafe Mystery series. The book introduces us to an aspiring chef named Amy Flowers who is preparing to open her own cafe in a small town in Virginia. She plans to cook Southern, down-home meals that she learned from her grandmother and is hoping her brand of comfort food will be the talk of the town. She is currently waiting tables at Lou's Joint and instead of quitting, she offers to buy the place. Lou Lou seems ready to make a deal and Amy shows up to talk to her, only when she arrives – Lou Lou is dead and she's the prime suspect.
The Kinsey Falls series starts off with Hightail It to Kinsey Falls. This book follows Jade Burt who is dealing with her grandmother Millie meddling in her love life. One day, Millie finds an abandoned baby possum which leads her to meeting Caleb Young. Millie thinks that he would be the perfect match for Jade, but after meeting him Jade seems determined to push him away. She's worried that he may be out to take advantage of Millie and will need to figure out who he is before he breaks both of their hearts.
Order of Books » Authors » Order of Gayle Leeson Books