Order of Helene Hanff Books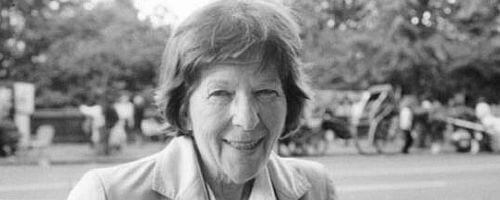 Helene Hanff was an American author best known for writing 84, Charing Cross Road. That book was the basis for the 1987 film of the same name with Anne Bancroft, Anthony Hopkins, and Judi Dench. She had a hand in creating some of the earliest television dramas.
Hanff started in New York as an ambitious playwright who tried to make it in the world of theater in the 1940s and 1950s. Her work was admired by Broadway producers, but never ended up getting produced. While in New York, she was able to find work writing and editing scripts for the early television dramas produced in New York. As television production moved to California, she ended up writing for magazines before eventually trying her hand at writing books.
Publication Order of Non-Fiction Books
| | | |
| --- | --- | --- |
| Underfoot in Show Business | (1962) | |
| 84, Charing Cross Road | (1970) | |
| The Duchess of Bloomsbury Street | (1973) | |
| Apple of My Eye | (1977) | |
| Q's Legacy: A Delightful Account of a Lifelong Love Affair with Books | (1985) | |
| Letter from New York: BBC Woman's Hour Broadcasts | (1992) | |
Publication Order of Children's Books
| | | |
| --- | --- | --- |
| Butch Elects a Mayor | (1969) | |
| Queen of England: The story of Elizabeth I | (1969) | |
| The Movers and Shakers: The Young Activists of the Sixties | (1982) | |
If You Like Helene Hanff Books, You'll Love…
84, Charing Cross Road is Hanff's classic love story about the power of the written word. The story is told between a series of letters between Hanff, a freelance writer in New York, and a used-book dealer in London. The two never meet and are separated by many miles, but they manage to share a strong friendship based on their shared love of books. The relationship between the two is acutely captured in the letters. This book was later turned into a film starring Anthony Hopkins and Anne Bancroft.
Hanff is also the author of The Duchess of Bloomsbury Street. This book sees Helene invited to London for the publication of 84, Charing Cross Road. She is excited to finally go, even though her friend has since passed away. Instead, she will meet up with his widow and daughter. She is embraced by them and the British readers, and treated as an honored guest. This book is a long-time New Yorker's portrait of the idiosyncratic Britain at its best.
Order of Books » Authors » Order of Helene Hanff Books