Order of Jake Bible Books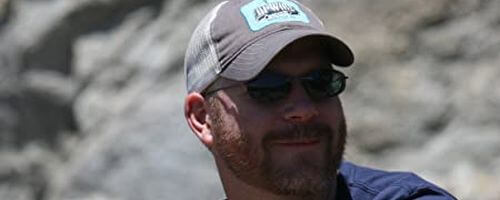 Jake Bible is an American author of science fiction and horror novels. He writes the Apex Trilogy, Mega, Out of the Earth, ScareScapes, and Z-Burbia series. Jake grew up with an interest in the speculative and the macabre, reading Edgar Allan Poe. Now he writes for all ages and multiple genres – including YA horror, historical fiction/space opera mash-up, sci-fi/horror, and more. Originally from the Pacific Northwest, Jake now resides in Asheville, NC with his wife. He has two kids.
Jake Bible made his debut as a novelist in 2009 with the novel Dead Mech, which began his Apex Trilogy series. Below is a list of Jake Bible's books in order of when they were originally released:
Publication Order of AntiBio Books
Publication Order of Apex Trilogy Books
Publication Order of Black Box Inc. Books
Publication Order of Dead Team Alpha Books
Publication Order of Fighting Iron Books
Publication Order of The Flipside Books
Publication Order of Jafla Base Squad Books
Publication Order of Kaiju Winter Books
Publication Order of Level Dead Books
Publication Order of Max Rage Books
Publication Order of Mega Books
Publication Order of Out Of The Earth Books
Publication Order of Reign Of Four Books
Publication Order of Roak: Galactic Bounty Hunter Books
Publication Order of Salvage Merc One Books
Publication Order of ScareScapes Books
Publication Order of Stark, Rash, Done Books
Publication Order of Z-Burbia Books
Publication Order of Standalone Novels
Publication Order of Short Stories/Novellas
Publication Order of Non-Fiction Books
Publication Order of Anthologies
If You Like Jake Bible Books, You'll Love…
Jake Bible Synopses: Little Dead Man by Jake Bible is a standalone novel. Decades after the zombie apocalypse, seventeen-year-old Garret Weir just wants to live a normal teenage life. As if dealing with the zombies isn't bad enough, his annoying twin brother refuses to let him be. And it's not as if Garret can just go to his room and shut the door to get away. His brother Garth is a zombie and conjoined to Garret's spine. Pure joy.
Forced from his hidden, mountain compound, Garret must learn who to trust and who to fear as he and Garth are thrust into a world more horrific than anything they could imagine. Fighting for their lives in a foreign landscape, the brothers head north to find their father who may have the answer to the deadly virus that started the zombie apocalypse. Along their way they meet new friends, learn betrayal the hard way, fight for their mother's life, run from deadly enemies, and discover that life may have seemed difficult before, but things can always get much, much worse.
Intentional Haunting is a standalone title by Jake Bible, set in Wyattsville, Oregon – the most haunted town in the U.S. For fourteen-year-old Cotton Tennison, the Wyattsville ghosts are not what he fears. He fears the living far worse. As the town outcast, Cotton suffers the abuse of his drunk father and the torment of the local bullies – a group known as the Red Meat Boys. His only escape from it all is The Wyatt House, an abandoned house at the end of his street, a house full of ghosts and specters that the town would prefer didn't exist. When several teenagers are brutally murdered, the town council decides to turn the Wyatt House over to a family of ghost hunters with questionable intentions. Now, Cotton must find a way to save the house, his ghostly friends, and the entire town before an evil force wipes them all out.
Blood Cruise is a standalone novel by Jake Bible. Ben Clow's plans are set. Drop the kids off, pick girlfriend up, drive to the marina, and hop on his best friend's cruiser for a weekend of fun at sea. But Ben's happy plans are about to be turned upside down by a tentacled horror that lurks beneath the waves.
Order of Books » Authors » Order of Jake Bible Books