Order of Jayne Castle Books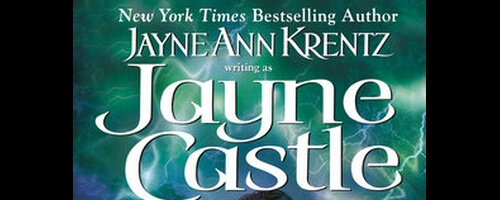 Jayne Castle is an American author best known for writing paranormal futuristic novels of romantic suspense. Jayne Castle is the maiden name and pen name of Jayne Ann Krentz. Under her Castle name, Jayne published the Futuristic World of St. Helen's series and the Guinevere Jones series.
Early in her career, Castle signed a contract with one of her publishers that allowed them to own the name Jayne Castle. After leaving that publisher, she was not allowed to publish books under the name Jayne Castle for ten years. This lead to her using a variety of pen names during that time including Jayne Taylor, Jayne Bentley, Stephanie James and Amanda Glass. Psychic talent is a trademark of Jayne's work as her books are set far in the future in a world where everyone has a psychic talent.
Publication Order of Futuristic World of St. Helen's Books
Publication Order of Futuristic World of Harmony: Ghost Hunters Books
Publication Order of Futuristic World of Harmony: Rainshadow Books
Publication Order of Guinevere Jones Books
Publication Order of Standalone Novels
Publication Order of Anthologies
If You Like Jayne Castle Books, You'll Love…
After Dark is the first book in the Ghost Hunters series. The book follows Lydia Smith, a para-archaeologist, who is feeling stressed out from a nasty incident at an alien tomb. She begins working part-time at a low-budget museum as she tries to get her career back on track. Then one day she finds a dead body in one of the exhibits at the museum. Making matters more complicated is her latest client is one of the most dangerous men in the city.
The Guinevere Jones series starts with The Desperate Game. Jones owns a small temp agency that she is struggling to keep afloat. As if money wasn't tight enough, she is now being blackmailed. Security consultant Zac is the one doing it as he needs her help to solve a computer crime. However, as she works closely with him she finds herself growing closer to him as she finds herself caught in a web of suspense and danger.
Order of Books » Authors » Order of Jayne Castle Books