Order of Jeff VanderMeer Books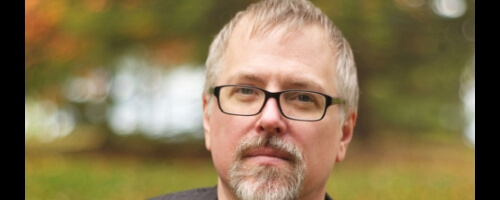 Jeff VanderMeer is one of the most original, and weirdest, authors working today. He is perhaps best known for the Southern Reach series of books which started with Annihilation. That book was adapted into a film starring Natalie Portman and directed by Alex Garland.
VanderMeer was born in Pennsylvania in 1968, but spent much of his childhood in the Fiji Islands as his parents were iin the Peace Corps. He would attend the University of Florida for college. He was inspired to become a writer by Angela Carter's novel The Infernal Desire Machines of Doctor Hoffman. He is married to Ann Kennedy and the two live in Florida.
Publication Order of Ambergris Books
Publication Order of Southern Reach Books
Publication Order of Borne Books
Publication Order of Misadventures of Jonathan Lambshead Books
Publication Order of Leviathan Books
Publication Order of Standalone Novels
Publication Order of Short Stories/Novellas
Publication Order of Short Story Collections
Publication Order of Non-Fiction Books
Publication Order of Dr. Black Books
Publication Order of Halo Anthologies
Publication Order of Sir Hereward and Mister Fitz Books
(with Carrie Vaughn, Kage Baker, Naomi Novik, , Elizabeth Bear, Rachel Swirsky, Michael Moorcock, Conrad Williams, Eric Flint, Dave Freer, , Garth Nix, Sarah Monette, , , , Kelly Barnhill)
Publication Order of Cat Rambo Collections
(with Cat Rambo)
Publication Order of Polyphony Anthologies Books
(with , , , , , , Nick Mamatas)
Publication Order of Anthologies
If You Like Jeff VanderMeer Books, You'll Love…
Annihilation is the first book in what would become the Southern Reach trilogy and a Nebula Award-winning novel. The book introduces us to a place known as Area X. It's an anamoly that has been secretly closed off by the government that has seen nature reclaim whatever was left of human civilization. Multiple expeditions have been sent into Area X to try and learn more about it, the latest has seen a man return to his wife as a shell of his former self with something not right. This awakens something within her, a search for answers, and she volunteers to be on the next expedition into Area X. Even as she knows the consequences of what that might mean.
Another wholly original book by VanderMeer is called Borne. A young woman named Rachel is a scavenger in a ruined city, a dangerous city that is filled with discarded experiments from a powerful Company. One day on a scavenger mission, Rachel finds Borne and brings him home. At the moment he is nothing more than a green lump, but there is something about him that draws Rachel to him. She knows it's dangerous, but she enjoys spending time with Borne and as he grows he threatens the balance of power in the city which puts Rachel at great risk.
Order of Books » Authors »