Order of Jenn Bennett Books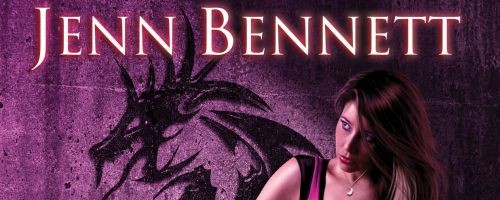 Jenn Bennett was born in Germany and after having received a BA in Fine Arts in Painting from Troy University she has lived a few places and travelled all over she now resides in Atlanta with her husband and two pug dogs. Along with writing she is an award-winning visual artist. Jenn has conjured up more demons than you could imagine and she likes her fairy tales likes she likes her coffee: dark.

Her debut novel Kindling the Moon is the first in a new series called Arcadia Bell who is the heroine. The Arcadia Bell fantasy series has been RT Reviewers' Choice-nominated series, upcoming young adult contemporary romance from MacMillian as well as the RITA nominated Roaring Twenties historical paranormal romance series.
Publication Order of Arcadia Bell Books
| | | |
| --- | --- | --- |
| Kindling the Moon | (2011) | |
| Summoning the Night | (2012) | |
| Leashing the Tempest | (2012) | |
| Binding the Shadows | (2013) | |
| Banishing the Dark | (2014) | |
Publication Order of Roaring Twenties Books
Publication Order of Standalone Novels
| | | |
| --- | --- | --- |
| The Anatomical Shape of a Heart (formerly named Night Owls) | (2015) | |
| Alex, Approximately | (2017) | |
| Starry Eyes | (2018) | |
| Serious Moonlight | (2019) | |
| The Lady Rogue | (2019) | |
| Chasing Lucky | (2020) | |
| Hate to Love You: Alex, Approximately; Starry Eyes | (2022) | |
If You Like Jenn Bennett, You'll Love…
Jenn Bennett Synopsis: Grave Phantoms is the third book in the Roaring Twenties series. Bo Yeung her notorious bootlegging brother's second-in-command has been the one thing that has been off limits for just home from college, Astrid Magnusson. Bo has been working with the Magnusson family doing whatever is needed for years, this also included keeping his boss's sister out of trouble while also keeping his hands to himself. A dream of an easy reunion isn't so easy after a horrible and violent storm has a mysterious yacht crashing into the dock owned by the Magnussons. Eerier still is that the boat disappeared over a year ago and the survivors of the crash are behaving oddly. For Astrid and Bo, danger will bring them closer together but making it through their own forbidden feelings could be a big risk.
Order of Books » Authors » Order of Jenn Bennett Books