Order of Jenn Lyons Books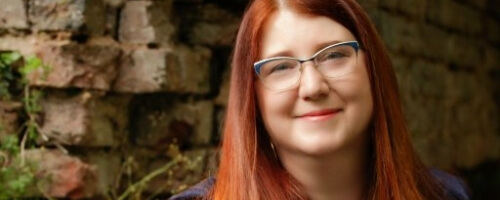 Jenn Lyons is an American author best known for writing the A Chorus of Dragons series of books. That series started in 2019 with The Ruin of Kings. That book was named a Kirkus Best of Science Fiction and Fantasy pick for 2019 and a Library Journal Best Book of 2019. She is also the author of the Blood Chimera series.
Lyons works as an illustrator and graphic artist for twenty years, then worked in video games for another ten years before deciding to try her hand at writing. She spent most of her life in Los Angeles, California, but now makes her home in Atlanta, Georgia. She is married with cats and enjoys semiotics, mythology, occult mysticism, and science.
Publication Order of A Chorus of Dragons Books
| | | |
| --- | --- | --- |
| The Ruin of Kings | (2019) | |
| The Name of All Things | (2019) | |
| The Memory of Souls | (2020) | |
| The House of Always | (2021) | |
| The Discord of Gods | (2022) | |
If You Like Jenn Lyons Books, You'll Love…
The Ruin of Kings follows Kihirin who grew up in the slums of Quur who was raised on tales of great quests and amazing princes. Kihirin is claimed against his will as the missing son of a treasonous prince and now finds himself at the mercy of a royal family with political ambitions. Kihirin is basically a prisoner and quickly learns that being a prince isn't all the stories told him it would be. He sees that the storybooks have lied about a lot of things, but what he doesn't know yet is that his destiny isn't to save the world. His destiny is to destroy it.
The series continued with The Name of All Things. The book picks up after the events of the last book and now Kihirin is on the run. He ends up meeting up with the mysterious Janel Theranon who claims to know him. She pleas with him to help her against a number of dangers including a wizard who may be in possession of one of the world's most powerful artifacts.
Order of Books » Authors »