Order of Joanna Hickson Books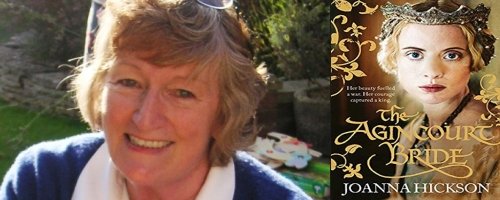 Joanna Hickson is an English author and long-time BBC presenter and producer. She spent over twenty five years working for the BBC where she presented and produced News and Arts programmes. She has since published both children's historical novels and adult fiction.
Hickson's work concentrates on bringing fifteenth century English history and some of its fascinating principal characters to life. She is known for the Catherine de Valois series of books including, The Agincourt Bride and The Tudor Bride. Hickson is married and lives in an old farmhouse near Bath.
Publication Order of Catherine de Valois Books
Publication Order of Queens of the Tower Books
Publication Order of Standalone Novels
If You Like Joanna Hickson Books, You'll Love…
The Agincourt Bride is a novel about the queen who founded the Tudor dynasty. The book tells the story of Catherine de Valois, the daughter of Charles VI of France, and her relationship with her wet-nurse Mette. The two form a bond that transcends Mette's position in life. Catherine is a pawn in a game between two dynasties. Her brother The Dauphin and the Duke of Burgundy both have their eyes on Catherine and how they can use her for their own gains. Mette hopes to protect her from the forces who wish to harm her. While a French defeat at the Battle of Agincourt will turn the tide and make Catherine even more valuable than before.
Another historical novel by Hickson is The Tudor Crown. This book sees Edward of York take back the English crown which sends the Lancastrian nobility into exile. Young Henry Tudor has a strong claim to the throne, but he too is sent away. His mother, Lady Margarent Beaufort, strikes an alliance with Edward's queen to marry the king's shrewdest courtier and keep the family safe. She will be torn between loyalty her son, duty to her husband, and loyalty to her king. When tragedy happens, the boy's bid for the crown comes back in to play with all the risk that comes with it.
Order of Books » Authors »