Order of Joshilyn Jackson Books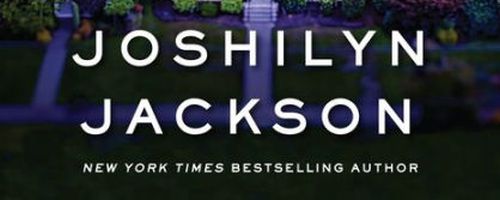 Joshilyn Jackson is a bestselling author who has won SIBA's Novel of the Year award and is a two-time winner at the Georgia Author of the Year awards. She is best known for her books, The Almost Sisters, Never Have I Ever, and Mother, May I.
Jackson makes her home in Decatur, Georgia where she lives with her husband and their two kids. In addition to wher work as a writer, she volunteers with Reforming Arts, teaching creative writing inside Lee Arrendale State Prison, Georgia's maximum security facility for women.
Publication Order of Standalone Novels
| | | |
| --- | --- | --- |
| Gods in Alabama | (2005) | |
| Between, Georgia | (2006) | |
| The Girl Who Stopped Swimming | (2008) | |
| Backseat Saints | (2010) | |
| A Grown-Up Kind of Pretty | (2010) | |
| Someone Else's Love Story | (2013) | |
| The Opposite of Everyone | (2016) | |
| The Almost Sisters | (2017) | |
| Never Have I Ever | (2019) | |
| Mother May I | (2021) | |
| With My Little Eye | (2023) | |
Publication Order of Short Stories/Novellas
Publication Order of Anthologies
| | | |
| --- | --- | --- |
| Don't Quit Your Day Job: Acclaimed Authors and the Day Jobs They Quit | (2010) | |
| Wedding Cake for Breakfast | (2012) | |
| New Voices in Fiction Sampler | (2014) | |
If You Like Joshilyn Jackson Books, You'll Love…
Almost Sisters is a popular novel by Joshilyn Jackson. The book sees a 38-year-old graphic novelist named Leia Birch Briggs who, at a comic convention, becomes pregnant with the baby of a stranger in a Batman costume. Leia comes from a conventional Southern family so she'll need to tread lightly to break the news of her single motherhood and the fact that the baby will be biracial. Before she can do so, her step-sister Rachel's marriage implodes and then she learns that her grandmother Birchie is losing her mind. Leia ends up going back to her grandmother's Alabama home to put her affairs in order when she finds a secret that Birchie has been hiding from the family for years. A secret that will change everything about how Leia sees her family.
Jackson is also the author of Never Have I Ever. Amy Whey has an ordinary life and she's proud of it. She teaches diving lessons, bakes cookies for her neighbors, and helps her friend Charlotte run the book club. Her family is her greatest joy in life. All that changes when Angelica Roux arrives on her doorstep for book club one night. Angelica charms the group and gets them spilling secrets which puts Amy on edge. It turns out Angelica knows about Amy's past and she's wanting to make her pay for it, or she'll ruin Amy's picture perfect life.
Order of Books » Authors » Order of Joshilyn Jackson Books