Order of Julia Heaberlin Books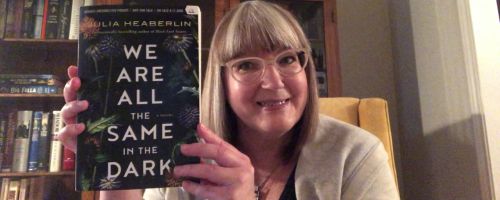 Julia Heaberlin is a thriller author out of Texas. She is the author of such books as We Are All the Same in the Dark and Black-Eyed Susans.
In addition to her work as an author, Julia has worked as a journalist and was an award-winning editor at The Detroit News, the Fort Worth Star-Telegram, and The Dallas Morning News.
Publication Order of Standalone Novels
| | | |
| --- | --- | --- |
| Playing Dead | (2012) | |
| Lie Still | (2013) | |
| Black-Eyed Susans | (2015) | |
| Paper Ghosts | (2018) | |
| We Are All the Same in the Dark | (2020) | |
| Night Will Find You | (2023) | |
If You Like Julia Heaberlin Books, You'll Love…
We Are All the Same in the Dark picks up a decade after the disappearance of Trumanell Branson. The only thing left behind was a bloody handprint. The search for her has never given up. Wyatt, her brother, was cleared of the crime but the locals don't believe him and a new documentary on the case isn't helping. Then Wyatt finds a lost girl dumped in a field and calls in the help of the town's youngest cop, Odette. She is bonded to the mystery girl and fights to save her as she digs up the truth about that fateful night in the past.
Heaberlin is also the author of Black-Eyed Susans. When Tessa was sixteen she was found in a Texas field, barely alive and surrounded by the bones of others. She had little memory of how she got there and the press called her the lone surviving "Black-Eyed Susan" based on the carpet of wildflowers she was found amongst. Two decades later, Tessa is a single mother who has left the past behind. Until she awakes one day to find that someone has planted a patch of black-eyed susans outside her window. Tessa believes that the killer is still on the loose and the man arrested for the crime should be exonerated. The legal team asks her to undergo an experimental therapy to retrieve lost memories. Tessa, scared that someone else may die, agrees.
Order of Books » Authors »