Order of Tana French Books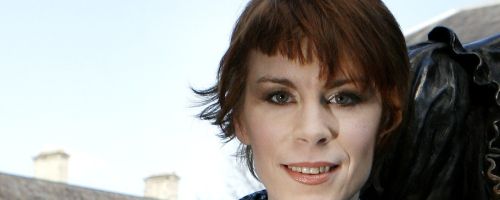 Tana French is an American-Irish author of mystery novels. Tana is also an professionally trained actress in theater, film and voiceover work. She has a daughter named Voltron, which is both awesome and horrifying at the same time. She is the author of the Dublin Murder Squad series.
Tana French made her fiction debut with In the Woods in 2007. For that novel, she won the Edgar, Anthony, Macavity and Barry awards for best first novel. Below is a list of Tana French's books in order of when they were first published (and in chronological order):
Publication Order of Dublin Murder Squad Books
| | | |
| --- | --- | --- |
| In the Woods | (2007) | |
| The Likeness | (2008) | |
| Faithful Place | (2010) | |
| Broken Harbour | (2012) | |
| The Secret Place | (2014) | |
| The Trespasser / Intrusion | (2016) | |
Publication Order of Standalone Novels
Note: The Witch Elm was published as The Wych Elm in the UK.
If You Like Tana French Books, You'll Love…
Tana French Reviews: In the Woods by Tana French is a gripping and atmospheric debut novel by Tana French. Set in a small Irish town, the book follows the story of detective Rob Ryan as he investigates the murder of a young girl. The investigation forces Ryan to confront the dark secrets of his own past, as he realizes that the murder may be connected to a traumatic event from his childhood. French masterfully weaves together elements of crime fiction, psychological thriller, and literary fiction to create a page-turner that is both suspenseful and emotionally resonant. The novel is a standout in the genre and is highly recommended for fans of crime fiction and literary fiction alike.
Tana French Synopses: The Likeness is the second book in the Dublin Murder Squad series by author Tana French. Detective Cassie Maddox leaves the Murder Squad and begins a relationship with fellow detective Sam O'Neill, still traumatized by her encounter with a psychopath. She is shocked to discover that the murdered girl is her double when he calls her to the scene of his new case. In addition, her identification identifies her as Lexie Madison, Cassie's former undercover detective identity. The chance of a lifetime is discovered by Cassie's former boss despite the absence of any leads, suspects, or clues regarding Lexie's true identity: In her place, send Cassie undercover to entice the killer to come out of hiding and finish the job.
The Witch Elm by Tana French is a standalone novel. Toby is a charming, upbeat individual who has avoided trouble at work and is having a party with friends when the night takes a turn that will alter his life. He surprises two burglars, who beat him and kill him. He takes refuge at the ancestral home of his family to care for his dying uncle Hugo as he struggles to recover from his injuries and begins to realize that he may never be the same man again. Then, in the garden, a skull is found in the trunk of an elm tree. As the police get closer, Toby is forced to confront the possibility that his past may not be as he has always believed it to be.
The Searcher is a standalone title by Tana French. A fixer-upper in a peaceful Irish village, according to Cal Hooper, would be the ideal getaway. He just wants to start a new life in a pretty place with a good pub where not much happens after 25 years in the Chicago police force and a bitter divorce. Cal, on the other hand, discovers layers of darkness beneath his picturesque retreat when a local kid whose brother has vanished forces him to investigate. He also begins to realize that even small towns contain dangerous secrets.
Order of Books » Authors »
3 Responses to "Order of Tana French Books"