Order of Kat T. Masen Books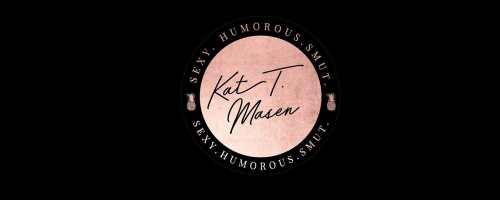 Kat T. Masen is an Australian author of New Adult romance novels. She writes the Dark Love and the Forbidden Love series, and is a USA Today bestselling author. She likes writing angsty forbidden love triangles. She loves the '80s, Beverly Hills 90210, and eating nachos while watching Gilmore Girls. Kat is married with four sons.
Kat T. Masen made her debut as a novelist in 2014 with the novel Chasing Love (aka Into the Darkness). Below is a list of Kat T. Masen's books in order of when they were originally published:
Publication Order of Dark Love Books
Publication Order of Forbidden Love Books
Publication Order of #Co-Worker Books
Publication Order of Roomie Wars Books
Publication Order of The Secret Love Books
Publication Order of Standalone Novels
Publication Order of Anthologies
If You Like Kat T. Masen Books, You'll Love…
Kat T. Masen Reviews: Charlie (short for Charlotte) and Alex are the focus of the story in Chasing Love by Kat T. Masen. Their story, both past and present, has a lot going on. This book could burn up due to the history between their characters, current issues, pure emotional factor, angst, anger, deception, lies, and sexual tension in almost every chapter!
Since the big explosion in which her affair with Alex was discovered after high school, Charlie hasn't had many relationships. She left town and ended up living in New York City for many years. Charlie's life appears to be settled as she and her college roommate Nikki start their own law firm. After just three months together, Charlie meets Julian at the gym, and Julian proposes to her. She says yes, and it seemed like they were going to live happily ever after. Until Alex comes back into her life, which is unlikely, chaos will undoubtedly ensue. -Kay
I loved The Trouble with Love by Kat T. Masen because forbidden romantic fiction is one of my favorite genres to read. Due to the close bond between their parents, 19-year-old Amelia and 30-year-old Will have known each other since childhood. I was deeply entwined in their love affair. They haven't seen each other in a while, so when they finally meet, they instantly fall in love. They try to fight it because they have a connection to their family, but they give in to their passionate attraction, and a secret affair begins. Eagerly anticipating the sequel! -F.
#Jerk was fantastic!
Presley, 32, a life planner with OCD, recently broke up with her fiancé because everything was too perfect. They had settled into a familiar routine. And Presley just wanted more… The 26-year-old Haden has never been on Presley's radar, and she has always been the Ice Queen who can't be had. All bets are off, however, if she shows up to work without her engagement ring. He was determined to attract her attention by acting like a jerk.
As a result, Haden sets out to completely frustrate her at every opportunity, and they exchange numerous verbal barbs. Until one night, when Presley was totally letting her hair down with the help of tequila, Haden pulled her away from Mr. Smokin' Hot and dragged her into the alley, where they made the biggest mistake of their lives. -Anonymous
Order of Books » Authors » Order of Kat T. Masen Books