Order of Kate Quinn Books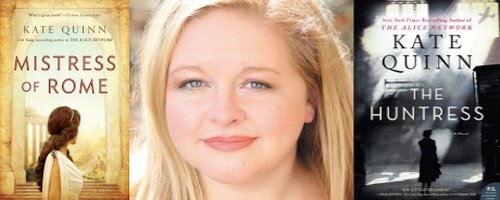 Kate Quinn is an American author best known for writing historical fiction, including the Empress of Rome Saga. She also has written books based in the Italian Renaissance as well books based in the 20th century.
Kate is married and shares two rescue dogs, Cesar and Calpurnia, with her husband. She attended Boston University where she earned her Bachelor's and Master's degree in Classical Voice.The two live in San Diego and when she's not writing, Quinn enjoys cooking, opera, action movies, and the Boston Red Sox.

Publication Order of Empress Of Rome Books
Publication Order of Borgia Chronicles Books
Publication Order of Standalone Novels
Publication Order of Short Stories/Novellas
Publication Order of Anthologies
Note: Ribbons of Scarlet is a collaborative novel with contributions from Stephanie Dray, Laura Kamoie, E. Knight, Sophie Perinot and Heather Webb.
If You Like Kate Quinn Books, You'll Love…
One of Quinn's book set in the 20th century was The Huntress. The book introduces us to Nine Markova who was apart of the Night Witches, the legendary all-female night bomber regiment that worked against the Nazis. Things go wrong for Nina and she becomes stranded behind enemy lines with the deadly Nazi murderess known as the Huntress after her. Meanwhile, a British war correspondent has left his investigator life behind and become a Nazi hunter. His target, of course, is the Huntress. Finally, in post-war Boston we have a 17-year-old Jonathan who sees his widowed father coming home with a new wife, a soft spoken German woman. There is something about her that doesn't quite sit right with him though and digging into her past discovers some dark mysteries in his family that may tear apart everything that he knows.
Mistress of Rome is the first book in the Empress of Rome series. The book focuses on Thea, a slave from Judea, who is purchased as a toy for the spoiled heiress Lepida Pollia. She manages to avoid her spite and even gets to hone her passion in music. However, when a powerful gladiator falls for her it earns the ire of Lepida and casts her out. She works to make a new career for herself as a singer, but that draws the attention of the Emperor herself and Thea will have to fight for her soul and her destiny if she wants to make it through this.
Order of Books » Authors »