Order of Kim Wilkins / Kimberley Freeman Books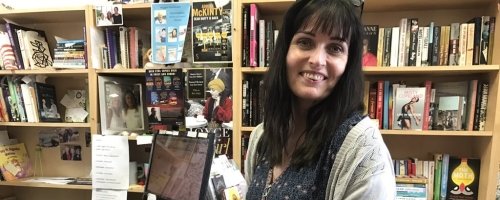 Kim Wilkins is an Australian writer who publishes books under a variety of genres. In addition to writing under her own name, she also publishes under the pen name of Kimberly Freeman. Her debut novel, The Infernal was published in 1997 and won Aurealis Awards in fantasy and horror.
Wilkins went to college at the University of Queensland where she received a first class honours degree in literature before going on to earn her MA and PhD. In addition to her work as a writer, Wilkins works at University of Queensland as an Associate Professor in writing and publishing studies.
Publication Order of Europa Suite Books
Publication Order of Blood and Gold Books
Publication Order of Gina Champion Books
Publication Order of Sunken Kingdom Books
Publication Order of Standalone Novels
Publication Order of Short Story Collections
Publication Order of Non-Fiction Books
Publication Order of Kimberley Freeman Short Stories/Novellas
(as Kimberley Freeman)
Publication Order of Anthologies
If You Like Kim Wilkins / Kimberley Freeman Books, You'll Love…
She published Daughters of the Storm under the name of Kim Wilkins. This book sees five sisters whose father is the king. The girls aren't quite alike as each of the girls is different with their own talents and skills. When their father falls ill with a mystery ailment, the girls must work together to save him as their stepbrother seeks to seize the throne. The girls are in search of a powerful witch who can cure their father and they must overcome their differences to do so. Their father's life and the kingdom itself hangs in the balance.
Under the name of Kimberly Freeman she also published Lightbouse Bay: A Novel. In this novel she tells of two love stories in Australia that are set more than a century apart. In 1901 a ship sinks and there is only one survivor, a woman who lost both her cruel husband and beloved son in the accident. The news isn't all bad as this offers her a new lease on life. While one hundred years later, Libby Slater is leaving her life in Paris to return home to the same small town. She hopes to rekindle things with her sister, but her sister is unsure if she can ever trust her again.
Order of Books » Authors »