Order of Madeline Martin Books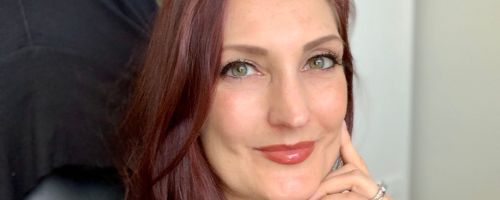 Madeline Martin is an American author of historical fiction and historical romance novels. She is a New York Times bestselling author. She is passionate about history, and often gets lost in her research. Her novels range from medieval to regency era. When she's not writing, researching, or being a mom, Madeline enjoys going to Disney with her family, travelling, and watching cat videos. She lives in Florida.
Madeline Martin made her debut as a novelist in 2015 with Deception of a Highlander. Below is a list of Madeline Martin's books in order of when they were first released
Publication Order of Borderland Ladies Books
Publication Order of Borderland Rebels Books
Publication Order of Heart Of The Highlands Books
Publication Order of Highland Passions Books
Publication Order of London School For Ladies Books
Publication Order of Matchmaker Of Mayfair Books
Chronological Order of Matchmaker Of Mayfair Books
Publication Order of Mercenary Maidens Books
Publication Order of Wedding A Wallflower Books
Publication Order of Standalone Novels
Publication Order of Short Stories/Novellas
Publication Order of Enduring Legacy Books
Publication Order of Highland Alliances Books
Publication Order of Midsummer Knights Books
Publication Order of Wicked Earls' Club Books
If You Like Madeline Martin Books, You'll Love…
Madeline Martin Synopses: Marin's Promise by Madeline Martin is the first book in the Borderland Ladies series. Lady Marin Barrington, eldest of the Earl of Werrick's five daughters, was born to protect. She is not only the mistress of the castle and caregiver to her sisters upon their mother's death, but she also acts in her father's stead while he is off serving the king. She is determined, and always avoids failure. So, when a reiver forces his way into the castle, Marin won't surrender easily and decides to kill him. Except plans go awry when passions are awoken and matters get complicated.
Bran Davidson's sister is set to be hanged, unless he agrees to take Werrick Castle. Merely a pawn, Bran has no choice but to force his way into the castle on behalf of the Scottish Middle March Warden. It isn't long before he discovers breaking into the castle isn't the hard part. Dealing with its mistress, however, will take all the cunning and determination he has, especially when she ignites the passion within him.
Faye's Sacrifice is the first book in the Borderland Rebels series by Madeline Martin. Ewan Sutherland, Chieftain of the Sutherland clan, is in need of an heir, especially with his uncle aiming to snatch the chieftainship. After a first marriage went sour, Ewan is determined to avoid making the same mistakes once again – a feat made even more difficult by the threats pushing him into marriage with his new bride. But the woman he married is not the same as the girl he once knew, and his new wife creates an unexpected wave of passion within him.
Faye Fletcher had no intentions of marriage, as she knows to love means to hurt. But when her grandfather drags her to the Highlands, she's forced to wed in order to save her sisters. Ewan is brave and handsome and ignites a desire inside her that burns brighter than anything she knew was possible. Regardless of the attraction they share, she's not allowing herself to fall in love.
When family betrayals and enemy conspiracies attempt to come between them and true love, will Faye let her painful past keep her closed off, or will Ewan's patience and love pay off?
In A Ghostly Tale of Forbidden Love by Madeline Martin (book 1 in the Heart of the Highlands series), Senara agrees to work as a lady's maid at Castle of Park to help dig her family out of financial woes. She did not anticipate having such a wicked mistress any more than she expects to find a handsome laird… or a ghost out for retribution.
Gavin vowed on his father's death bed to look after his aunt, and has never stopped regretting it. Especially when her new maid shows up. The woman is absolutely fascinating which draws his cruel aunt's ire. Can he protect the woman from his aunt? Even more importantly, can he keep himself from giving into his attraction for the country lass?
Order of Books » Authors » Order of Madeline Martin Books