Order of Marie Brennan Books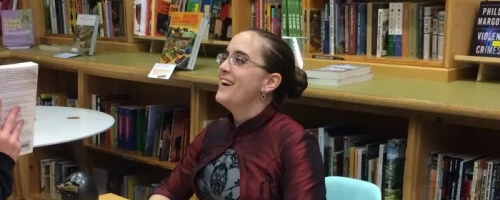 Marie Brennan is an American author best known for her work on the Memoirs of Lady Trent and Born to the Blade series of books. She published her first novel in 2004 and has been writing ever since.
Brennan holds an archaeology and folklore undergraduate degree from Harvard. This education forms a lot of the background of her writing. Brennan lives in the San Francisco Bay area where she enjoys playing role-playing games, photography, studying karate and playing piano. In addition to studying at Harvard, Brennan also completed graduate coursework at Indiana University in Bloomington.
Publication Order of Doppelganger Books
Publication Order of Onyx Court Books
Publication Order of Wilders Books
Publication Order of Memoir by Lady Trent Books
Publication Order of Ree Varekai Books
Publication Order of Standalone Novels
Publication Order of Short Stories/Novellas
Publication Order of Non-Fiction Books
If You Like Marie Brennan Books, You'll Love…
A Natural History of Dragons: A Memoir by Lady Trent is the first book in the Lady Trent series. This book is written memoir style about the remarkable woman who brough thte study of dragons into the world of modern science. This book tells the story of Lady Trent with a joy and celebration of scientific curiosity. The book covers her expedition to the mountains of Vystrana where she made the first of her historic discoveries that would change the world. She'll have to risk life and limb to find what she wants and get the information that will change the world.
Another series by Brennan is called Onyx Court and the first book is Midnight Never Comes. The book is set in 1590 with the royal England of Elizabeth I in full swing. What's not known to many though is the world below where The Onyx Court is and the faeries rule the land. The book tells the story of the place in between where Elizabeth has a pact with with the Faerie Queen Invidiana. The alliance is in danger though and a man from above and a faerie from below must work together to stop both realms from shattering.
Order of Books » Authors » Order of Marie Brennan Books