Order of Marjorie Eccles Books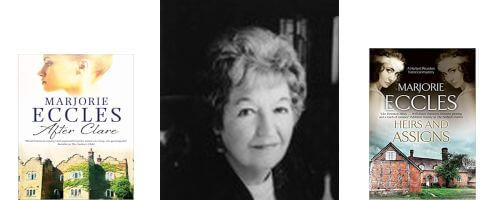 Marjorie Eccles is a British author best known for her Gil Mayo series of books. She won a Agatha Christie Styles Award for a short story early in her career and has also been nominated for the prestigious Ellis Peters Dagger Award.
Eccles was born in Yorkshire, United Kingdom where she grew up and spent much of her life. She currently lives with her husband in Hertfordshire where she enjoys working on her garden. Her Gil Mayo series of books was actually adapted by the BBC as a television show which starred Alistair McGowan as the title character.
Publication Order of Gil Mayo Books
Publication Order of Tom Richmonds Books
Publication Order of Herbert Reardon Books
Publication Order of Standalone Novels
Publication Order of Short Story Collections
Publication Order of Anthologies
If You Like Marjorie Eccles Books, You'll Love…
Cast A Cold Eye is the first book in the Gil Mayo series. Mayo takes a promotion that takes him from Yorkshire to the fictional town of Lavenstock. We quickly find out that Mayo likes to get all the facts before accusing someone and that it annoys him when other detectives attempt to jump to conclusion. When an award-winning architect is found dead in him home and there are plenty of people who may have wanted him dead. A good introduction to Mayo and a solid mystery.
The Herbert Reardon series is another popular series from Eccles. This series is set in 1919 England and the first book is Broken Music. It is post World War I and the soldiers are making their way home. Former police sergeant heads back to the village of Broughton Underhill where he hopes to solve an old murder from before the beginning of the war. This books does a great job of tying together the horrors of war with the anxiety of coming home. The loves and losses of wartime will come to a head as Reardon attempts to solve this case, once and for all.
Order of Books » Authors » Order of Marjorie Eccles Books