Order of Mary Higgins Clark Books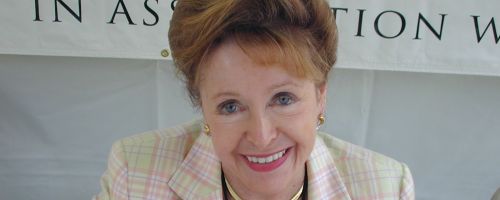 Mary Higgins Clark was an American novelist best known for her suspense novels. She had been called "The Queen of Suspense" for her mastery of the genre, leading you to believe that all of the parties are guilty. Her novels often feature women who are young and independent and must solve whatever problem lay in their path. While most of her books are written for adults, some of them have even become a hit with kids. She has also co-authored many Christmas books with her daughter, Carol Higgins Clark.
Mary Higgins Clark passed away at the age of 92 years old on January 31st, 2020.
Mary Higgins Clark started writing novels in 1968 with Aspire To The Heavens, a fictional story about George Washington. It has since been re-released as Mount Vernon Love Story. After that, she did not get another book published until 1975. For a while after that, her output was about a book every 2-3 years until 1989 when she really started getting going. By the time of this writing, Mary Higgins Clark is a prolific author with over 40 books published.
Below is the order of when all of Mary Higgins Clark's books were originally published:
Publication Order of Alvirah and Willy Books
(with Carol Higgins Clark)
Publication Order of Under Suspicion Books
(with Alafair Burke)
Publication Order of Standalone Novels
Publication Order of Short Story Collections
Publication Order of Non-Fiction Books
Publication Order of Regan Reilly Mystery Books
(with Carol Higgins Clark)
Publication Order of Malice Domestic Books
Publication Order of Fearless Jones Books
(with Janet Evanovich, Lawrence Block, Linda Fairstein, Nelson DeMille, Donald E Westlake, Carol Higgins Clark, Nancy Pickard, Walter Mosley, Edna Buchanan, Ann Rule)
Publication Order of Anthologies
Notes: Aspire To The Heavens is also known as Mount Vernon Love Story. Deck The Halls, He Sees You When You're Sleeping, The Christmas Thief, Santa Cruise and Dashing Through the Snow were co-authored with daughter Carol Higgins Clark. Inherit the Dead is a collaborative novel written with several other authors. The Under Suspicion series is written with Alafair Burke.
Mary Higgins Clark Reader Reviews:
Submitted by Anne M.
Where Are The Children – This is the story of Nancy, a woman whose two children mysteriously disappeared many years ago. Their bodies were later found and she was charged with their murders. She insisted that she had nothing to with their disappearance and deaths, but the District Attorney's office wasn't buying it. She was found guilty but the charges were later overturned.
Nancy is abandoned by her husband and moves and changes her identity to start her new life. She later remarries and has two more children and the nightmare begins again. Her two children disappear and all the old suspicious surface again. Did she do this and is she really responsible for her first two children's deaths?
I loved this book and was equally enthralled with it from start to finish. Would definitely recommend this book as a "must read"!
If You Like Mary Higgins Clark Books, You'll Love…
Order of Books » Authors » Order of Mary Higgins Clark Books
One Response to "Order of Mary Higgins Clark Books"