Order of Mary Stone Books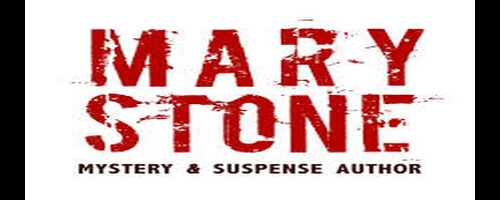 Mary Stone is an American thriller writer best known for writing the Winter Black series, the Autumn Trent series, the Kylie Hatfield series, and the Ellie Kline series. Her books are known for their strong heroines who are tough and never damsels in distress.
Stone lives in the Blue Ridge Mountains of East Tennessee with her husband, children, and pets. As a young girl she was often scared of monsters living under her bed, but as she grew older she learned that the worst monsters were human. That inspired her writing as her books always have a dastardly villain for her heroines to take down.
Publication Order of Amelia Storm Books
(with Amy Wilson)
Publication Order of Autumn Trent Books
Publication Order of Charli Cross Books
(with Donna Berdel)
Publication Order of Ellie Kline Books
(with Donna Berdel)
Publication Order of Kylie Hatfield Books
(with Bella Cross)
Publication Order of Shadow Island Books
Publication Order of Stella Knox Books
Publication Order of Winter Black Books
If You Like Mary Stone Books, You'll Love…
Winter's Mourn is the first book in the Winter Black series. Thirteen years ago Winter Black went on a sleepover to a friend's house and when she came home she found her parents murdered and her brother missing. They were the victims of a serial killer known as The Preacher and this tragic incident sent her on a career path to the FBI. Now, she is a rookie FBI agent on her first case in the small town she grew up in. The bones found lead to a secret burial ground and the investigation hits close to home. Winter wonders if her brother's bones are there, but only The Preacher knows for sure.
The Ellie Kline series starts with Cold Truth. This book follows Ellie who was kidnapped when she was fifteen. She doesn't remember much about that night, but it definitely helped to shape her future as she is now a cop who doesn't take no for an answer. She is assigned to the cold case unit and set on the case of the murder of a young woman with no missing persons report. As she digs in, she starts to find connections between this case and another Jane Doe. Ellie may be on to something, but there is someone in the shadows who is willing to put a top to her if she gets too close.
Order of Books » Authors » Order of Mary Stone Books
2 Responses to "Order of Mary Stone Books"