Order of Melissa Bourbon Books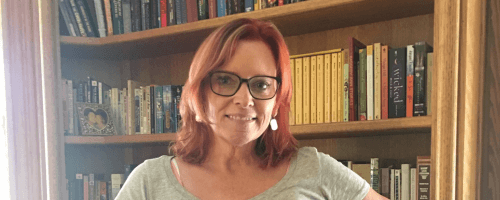 Melissa Bourbon is an American author of mystery and suspense novels. She writes the Book Magic Mysteries series, Lola Cruz Mysteries series, and the Magical Dressmaking series. She also writes the Bread Shop Mysteries as Winnie Archer. She has five kids and lives in North Carolina with her husband and dogs.
Melissa Bourbon made her debut as a novelist in 2008 with Living the Vida Lola. She had published a picture book prior to that. Below is a list of Melissa Bourbon's books in order of when they were originally published:
Publication Order of Bread Shop Mysteries Books
(as Winnie Archer)
Publication Order of Deadly Legends Books
Publication Order of Lola Cruz Mysteries Books
Publication Order of Magical Dressmaking Mysteries Books
Publication Order of Pippin Lane Hawthorne Mystery / Book Magic Mysteries Books
Publication Order of Spellbound Books
Publication Order of Picture Books
Publication Order of Non-Fiction Books
If You Like Melissa Bourbon Books, You'll Love…
Melissa Bourbon Synopses: The Secret on Rum Runner's Lane by Melissa Bourbon is the first book in the Book Magic Mysteries series. Cassie Lane and her family are gifted with the power of bibliomancy, the ability to read and manipulate the future through books. But for Cassie, this talent feels more like a burden she wants to shed. She longs to escape her fate, to break free from the magic that has haunted her family for generations.
Yet when tragedy strikes her small town and a neighbor is found dead, Cassie realizes that running away won't solve anything. As more secrets come to light and a woman goes missing, Cassie reluctantly turns to the very books she's been avoiding to help solve the mysteries and uncover the truth.
Silent Echoes is the first book in the Deadly Legends series by author Melissa Bourbon. On a sultry Texas night twelve years ago, Vic Vargas shared a passionate kiss with Delaney West that left her reeling. But before the night was over, a malevolent force snaked its way into Delaney's bedroom and shattered their world. These days, Vic leads a half-hearted existence as a rancher, taking comfort in one-night stands and struggling to connect with his young son.
But when Delaney suddenly reappears in San Julio, long-dormant memories and feelings come rushing back, accompanied by eerie rumors of livestock deaths attributed to the mythical bloodsucking creature known as the chupacabra. As their emotional connection reignites, so does the evil that has lurked in the shadows for over a decade, waiting for Delaney's return.
Living the Vida Lola is the first Lola Cruz mystery from novelist Melissa Bourbon. Meet Lola Cruz, a recently promoted detective at Camacho and Associates, where her boss is the charming but enigmatic Manny Camacho. Lola's first major case involves finding a missing mother who may not want to be found. Meanwhile, Lola is also helping her cousin plan her quinceañera and battling her family's traditional views on women's careers. Lola's personal life becomes complicated when she reunites with her high school crush, Jack Callaghan, and discovers that he's the subject of her investigation. When the missing woman ends up dead, Lola finds herself in the midst of a dangerous web of corruption involving a tattoo parlor, local politics, and someone with a serious case of road rage. As if that weren't enough, Lola's treasured post-coital pictures of Jack have gone missing. Luckily, Lola is more than capable of handling these challenges. She's a black belt in kung fu and has both smarts and sass. Plus, her famous margaritas are always on hand to help her through any tough situation.
Order of Books » Authors »