Order of Michael Anderle Books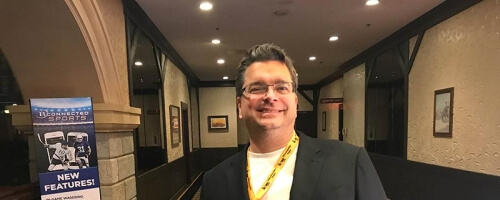 Michael Anderle is an American author best known for his popular Kurtherian Gambit series of books. He is a lifelong fan of science fiction and has made a nice career out of it.
Anderle was born in Houston, Texas in 1967 where he grew up. He was a voracious reader from a young age and had an early interest in science fiction and fantasy novels. That reading at a young age helped inform him and would be key in his writing of the Kurtherian Gambit. That series spans over twenty novels as well as multiple spinoff series.
Publication Order of Kurtherian Gambit Books
Publication Order of Kurtherian Gambit: Reclaiming Honor Books
(with Justin Sloan)
Publication Order of Kurtherian Gambit: Terry Henry Walton Books
(with Craig Martelle)
Publication Order of Kurtherian Gambit: Etheric Academy Books
Publication Order of Kurtherian Gambit: Trials And Tribulations Books
(with Natalie Grey)
Publication Order of Kurtherian Gambit: Rise Of Magic Books
(with C.M. Raymond, L.E. Barbant)
Publication Order of Kurtherian Gambit: Ascension Myth Books
(with Ell Leigh Clarke)
Publication Order of Kurtherian Gambit: Hidden Magic Chronicles Books
(with Justin Sloan)
Publication Order of Kurtherian Gambit: Storms Of Magic Books
(with P.T. Hylton)
Publication Order of Kurtherian Gambit: Path Of Heroes Books
(with Brandon Barr)
Publication Order of Kurtherian Gambit: Age Of Magic: New Dawn Books
(with Amy Hopkins)
Publication Order of Kurtherian Gambit: Confessions Of A Space Anthropologist Books
(with Ell Leigh Clarke)
Publication Order of Kurtherian Gambit: Etheric Adventures: Anne and Jinx Books
(with S.R. Russell)
Publication Order of Kurtherian Gambit: Age Of Expansion: Bad Company Books
(with Craig Martelle, Justin Sloan)
Publication Order of Kurtherian Gambit: Age Of Expansion: Valerie's Elites Books
(with Justin Sloan, P.T. Hylton)
Publication Order of Kurtherian Gambit: Age Of Expansion: Uprise Saga Books
(with Amy DuBoff)
Publication Order of Kurtherian Gambit: Age Of Expansion: Shadow Vanguard Books
(with Tom Dublin)
Publication Order of Kurtherian Endgame Books
Publication Order of Kurtherian Gambit: Age Of Magic: Wellspring Knight Books
(with P.J. Cherubino)
Publication Order of Kurtherian Gambit: Age Of Madness: Live Free Or Die Books
(with Hayley Lawson)
Publication Order of Kutherian Gambit: Age Of Expansion: Enemy Of My Enemy Books
(with Tim Marquitz)
Publication Order of Kurtherian Gambit: Age Of Magic: Hand Of Justice Books
(with Jace Mitchell)
Publication Order of Kurtherian Endgame: Out Of Time Books
(with N.D. Roberts)
Publication Order of Kurtherian Gambit: The Empress' Spy Books
(with S.E. Weir)
Publication Order of Academy Of Necessary Magic Books
(with Martha Carr)
Publication Order of Adventures Of Maggie Parker Books
(with Martha Carr)
Publication Order of Akio Revelations Books
(with Charles Tillman)
Publication Order of Alison Brownstone Books
(as Judith Berens)
Publication Order of Animus Books
(with Joshua Anderle)
Publication Order of Apocalypse Paused Books
(with Michael Todd)
Publication Order of Atlantica Universe: John Chambers Books
Publication Order of Atlantica Universe: Santana Sokolov Books
Publication Order of Atlantica Universe: Terra Kris Books
Publication Order of Atlantica Universe: Valentina Winters Books
Publication Order of Astral Wanderer Books
(with D'Artagnan Rey)
Publication Order of Barbarian Princess Books
Publication Order of Birth Of Heavy Metal Books
(with Michael Todd)
Publication Order of Blade Of The Fae Books
(with R.A. Rock, Laurie Starkey)
Publication Order of BOHICA Chronicles Books
(with Jonathan P. Brazee, C.J. Fawcett)
Publication Order of Boris Chronicles Books
(with Paul C. Middleton)
Publication Order of Brutal Response Books
Publication Order of Caitlin Chronicles Books
(with Daniel Willcocks)
Publication Order of Case Files Of An Urban Witch Books
(with Martha Carr)
Publication Order of Chooser of the Slain Books
Publication Order of Christmas Kringle Books
Publication Order of Chronicles Of KieraFreya Books
Publication Order of Chronicles of an Urban Druid Books
(with Auburn Tempest)
Publication Order of Case Files Of An Urban Druid Books
(with Auburn Tempest)
Publication Order of Chronicles Of The Unwanted Princess Books
(with J.L. Hendricks)
Publication Order of Chronicles Of Winland Underwood Books
(with Martha Carr)
Publication Order of Chronicles of Zoey Grimm Books
(with Theophilus Monroe)
Publication Order of Cryptid Assassin Books
Publication Order of Daniel Codex Books
(as Judith Berens)
Publication Order of Dark Angel Merchant Marines Books
Publication Order of Dark Gate Angels Books
(with Ramy Vance)
Publication Order of Daywalker Chronicles Books
(with Theophilus Monroe)
Publication Order of Dead Evil Mercenary Corps Books
Publication Order of Deuces Wild Books
(with Ell Leigh Clarke)
Publication Order of Diary of A Dark Monster Books
(with Martha Carr)
Publication Order of Die Again To Save The World Books
(with Ramy Vance)
Publication Order of Dragon Approved Books
(with Ramy Vance)
Publication Order of Dragon's Daughter Books
(with Kevin McLaughlin)
Publication Order of The Dragonclaw Sword Books
(with Kevin McLaughlin)
Publication Order of Dwarf Bounty Hunter Books
(with Martha Carr)
Publication Order of Dwarvish Dirty Dozen Books
(with Aaron D. Schneider)
Publication Order of Elven Prophecy Books
(with Theophilus Monroe)
Publication Order of Evermores Chronicles Books
(with Martha Carr)
Publication Order of Exceptional S. Beaufont Books
(with Sarah Noffke)
Publication Order of Exceptional Sophia Beaufont Books
(with Sarah Noffke)
Publication Order of Federal Agents of Magic Books
(with T.R. Cameron, Martha Carr)
Publication Order of Federal Histories Books
Publication Order of Frank Kurns: Tales Of The UnknownWorld Short Stories/Novellas
Publication Order of Go Ask Your Mother Books
(with Theophilus Monroe)
Publication Order of Goth Drow Books
(with Martha Carr)
Publication Order of Great Insurrection Books
(with David Beers, John Skelley)
Publication Order of Great Lakes Investigations Books
(with Phillipa Norcross)
Publication Order of Hellcat Released Books
Publication Order of Heretic Of The Federation Books
Publication Order of How To Be A Badass Detective Books
Publication Order of How To Be A Badass Vigilante Books
Publication Order of How To Be A Badass Witch Books
Publication Order of I Fear No Evil Books
(with Martha Carr)
Publication Order of Inanna's Circle Books
Publication Order of In Her Paranormal Majesty's Secret Service Books
(with Daniel Willcocks)
Publication Order of Inscrutable Paris Beaufont Books
(with Sarah Noffke)
Publication Order of Interstellar Security and Extraction Services Books
Publication Order of Judge, Jury, & Executioner Books
(with Craig Martelle)
Publication Order of Justice Begins Books
Publication Order of Last Vampire Books
(as Judith Berens)
Publication Order of Legacy Of The Shadow's Blood Books
(with E.G. Bateman)
Publication Order of Lone Wolf Squadron Books
(with Jamie Davis)
Publication Order of Magic Below Paris Books
(with C.M. Simpson)
Publication Order of Magic City Chronicles Books
(with T.R. Cameron, Martha Carr)
Publication Order of Mantle and Key Paranormal Agency Books
(with Ramy Vance)
Publication Order of Marmalade and Magic Books
Publication Order of McFadden and Banks Books
Publication Order of Metamorphosis Online Books
(with Natalie Grey)
Publication Order of Middang3ard Books
(with Ramy Vance)
Publication Order of Myth of The Dragon Books
Publication Order of Never Ending War Books
(with Martha Carr)
Publication Order of One U.G.L.Y. Marine Books
Publication Order of Opus X Books
Publication Order of Opus X: Fleet of One Books
Publication Order of Osprey Chronicles Books
(with Ramy Vance)
Publication Order of Outcast Royal Books
(with Aaron D. Schneider)
Publication Order of Pain and Agony Books
Publication Order of Paranormal Mercenary Corps Books
(with M. Guida)
Publication Order of Penny and Boots Books
(with Amy Hopkins)
Publication Order of Piercing the Veil Books
Publication Order of Pivot Lab Chronicles Books
Publication Order of P.I.V.O.T. Lab Chronicles: Too Young To Die Books
Publication Order of Quantum Legends Books
Publication Order of Realms of Power and Fury Books
(with Kevin McLaughlin)
Publication Order of Reincarnation Of The Morrigan Books
(with Renée Jaggér)
Publication Order of Revelations Of Oriceran: Leira Chronicles Books
(with Martha Carr)
Publication Order of Revenant Files Books
(with D'Artagnan Rey)
Publication Order of Rewriting Justice Books
(with Martha Carr)
Publication Order of Rise Of Terry Victor Books
Publication Order of Rise Of The Grandmaster Compilation Books
(with Bradford Bates)
Publication Order of Rogue Agents of Magic Books
(with T.R. Cameron, Martha Carr)
Publication Order of Sariah Chronicles Books
(with Peter Glenn)
Publication Order of School Of Necessary Magic Books
(as Judith Berens)
Publication Order of School Of Necessary Magic: Raine Campbell Books
(as Judith Berens)
Publication Order of School Of Roots and Vines Books
(with Martha Carr)
Publication Order of Scions of Magic Books
(with T.R. Cameron, Martha Carr)
Publication Order of Second Dark Ages Books
Publication Order of Semiautomatic Sorceress Books
(with Kal Aaron)
Publication Order of Steel Dragons Books
(with Kevin McLaughlin)
Publication Order of Skharr DeathEater Books
Publication Order of Soldiers Of Fame and Fortune Books
(with Michael Todd)
Publication Order of Steel Dragon Books
(with Kevin McLaughlin)
Publication Order of Tomb of Malevolent Evil Books
(with Kevin McLaughlin)
Publication Order of Unveiled Academy Books
(with Jace Mitchell)
Publication Order of Kurtherian Gambit: Tales Of The Feisty Druid Books
(with Candy Crum)
Publication Order of Unbelievable Mr. Brownstone Books
Publication Order of The Unconventional Agent Beaufont Books
(with Sarah Noffke)
Publication Order of The Undoubtable Rose Beaufont Books
(with Sarah Noffke)
Publication Order of Unlikely Bountyhunters Books
(with Michael Todd)
Publication Order of Unplanned Princess Books
Publication Order of Unstoppable Liv Beaufont Books
(with Sarah Noffke)
Publication Order of The Victorious Redemption Books
Publication Order of Vigilante Chronicles Books
(with Natalie Grey)
Publication Order of WarMage Redux Books
(with Martha Carr)
Publication Order of The Warrior Books
(with Martha Carr)
Publication Order of Witch of the Federation Books
Publication Order of Witch Next Door Books
(as Judith Berens)
Publication Order of Witches Of Pressler Street Books
(with Martha Carr)
Publication Order of World's First Wizard Books
(with Aaron D. Schneider)
Publication Order of The War Machine Books
(with David Beers)
Publication Order of Short Stories/Novellas
Publication Order of Short Story Collections
Publication Order of Non-Fiction Books
Publication Order of A Beaufont Short Story Books
(with Sarah Noffke)
Publication Order of Age Of Expansion: Precious Galaxy Books
(with Sarah Noffke)
Publication Order of Age of Expansion: The Ghost Squadron Books
(with Sarah Noffke)