Order of Michael Christopher Carter Books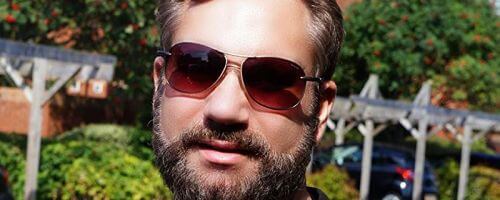 Michael Christopher Carter is a British author of paranormal thriller novels. Even prior to developing his own passion for reading, Michael was surrounding by horror and thriller novels. His mom would read Stephen King books to him. Later on, he discovered Dean Koontz, James Herbert, and other authors. His first teacher told his parents that he had to be a writer, and he feels blessed that he's able to do what he loves.
Michael Christopher Carter made his debut as an author in 2014 with the novel The Hum as well as the novella You don't have to be dead to work here… but it helps. Below is a list of Michael Christopher Carter's books in order of when they were originally released:
Publication Order of The Beast Of Benfro Books
Publication Order of Hamster Horror Books
Publication Order of The Hum Books
Publication Order of Paranormal Tales From Wales Books
Publication Order of Standalone Novels
If You Like Michael Christopher Carter Books, You'll Love…
J.R. Erickson
Lee Mountford
Abe Moss
Michael Christopher Carter Synopsis: In The Beast of Benfro by Michael Christopher Carter, after barely surviving an attack from an unknown creature in the woods, David fears his flirtatious neighbour might not have been so lucky.
Presenting his theory to the police quickly puts him at the top of a short list of suspects when she fails to turn up safe and well. His only hope of persuading them of his innocence lies with his delinquent younger brother, Jimmy, proving the existence of a monster in the forests of sleepy West Wales.
Calling on the help of TV experts, Jimmy heads to the jungles of the Congo in search of the truth. But, some secrets are too grave to share, and, as he gets closer to uncovering the secret behind what his brother saw, he unleashes a terrible danger which threatens those he loves.
Will they be able to escape the Beast of Benfro?
Order of Books » Authors »