Order of Michaelbrent Collings Books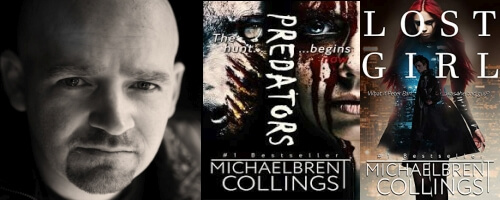 Michaelbrent Collings is an American author best known for his work in the horror genre. He is the author of many novels, with two of them being finalists for the prestigious Bram Stroker Award. In addition to his horror novels, Collings has also penned two screenplays: Barricade (2012) and Darkroom (2013).
Collings had writing in his blood as his father Michael R. Collings was a creative writing teacher as his profession and taught his son. Originally turned down by traditional publishers, Collings turned to the world of self-publishing and found great success with Run with little marketing behind it. Collings also spread out to write western romance novels, but published them under the name of Angelica Hart because of how a male horror writer writing romance would be perceived. He would later branch into screenwriting by entering multiple screenplays into the Nicholl Fellowships in Screenwriting which lead to Barricade getting produced by WWE Studios. The film starred Eric McCormack.
Publication Order of Billy Jones Books
Publication Order of Colony Books
Publication Order of Fairy Tales Books
Publication Order of Good Mormon Girl Mysteries Books
Publication Order of The Stranger Books
Publication Order of Sword Chronicles Books
Publication Order of Standalone Novels
Publication Order of Short Stories/Novellas
Publication Order of Short Story Collections
Publication Order of Non-Fiction Books
Publication Order of Anthologies
If You Like Michaelbrent Collings Books, You'll Love…
Terminal follows six passengers at a bus terminal waiting to get to their destinations. They are late night travelers who just want to get this over with, but when a strange fog rolls in – everything changes. The passengers find themselves cut off from the outside world – no phones or computers – and it's just the ten passengers in the terminal… and The Other, and The Other wants to play a game.
Another scary book from Collings is called Scavenger Hunt. This book starts with five strangers waking up in a white room with no windows and no doors. They have been drugged and kidnapped to be the newest contestants in the world's most high stakes scavenger hunt that is run by a madman named Mr. Dr-Good. There is only two options in this game: win or die.
Order of Books » Authors » Order of Michaelbrent Collings Books