Order of Mike Faricy Books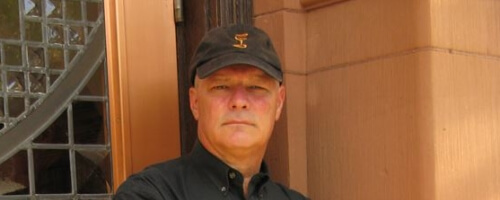 Mike Faricy is an American thriller author best known for his Dev Haskell series of books. He mainly writes books in the mystery suspense thriller genre, but the books have humor and romance woven into the story. He fills his books with the type of oddball characters that we all wish we knew, but are the types of people that we are probably better off never meeting.
Faricy splits his time between Saint Paul, Minnesota and Dublin, Ireland. He was awarded the 2016 IACM Silver Award for Best Mystery author.
Publication Order of Dev Haskell Books
Publication Order of Dev Haskell Short Stories/Novellas
Publication Order of Corridor Man Books
Publication Order of Corridor Man Short Stories/Novellas
Publication Order of Hotshot Books
Publication Order of Jack Dillon Dublin Tales Books
(with Patrick Emmett)
Publication Order of Standalone Novels
Publication Order of Anthologies
If You Like Mike Faricy Books, You'll Love…
Russian Roulette is the first book in the Dev Haskell series. Dev is a P.I. who is down on his luck and drinking quite a bit when a French girl named Kerri hires him to help find her sister. The only thing he has to go on is a photo with two men, both of whom are now dead. The search for Nikki leads him to the underworld of the Russian Mafia and they aren't happy about it. They want him silence while the St. Paul police and FBI are on Dev's tail as well. He finds himself in a ton of trouble and on the run from a brutal killer.
Faricy is also the author of Bow-Wow Rescue which sees Dev returning as an old girlfriend has been arrested for murder. He's on the case to find the real killer and to clear her name. There is also the story of a group of thugs who are driving around and robbing women. They have been hard to catch as their crimes are seemingly random. Meanwhile, a group of dogs are camped out in Morton's yard. This is a great book for fans who are into the extended universe of characters in this series.
Order of Books » Authors » Order of Mike Faricy Books