Order of Nan Rossiter Books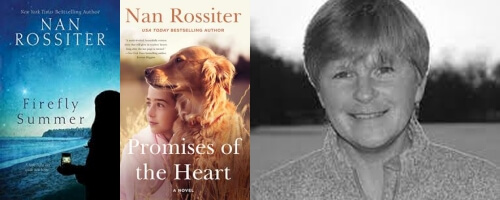 Nan Rossiter is an American author who is beest known for writing books like The Gin & Chowder Club and Promises of the Heart. Rossiter writes stories that cover the complicated relationships that most people can relate to, relationships like motherhood, sisterhood, friendship, marriage and romance. Her books aim to be compassionate, real, and funny with experiences drawn on real life. She wrote Summer Dance which won the 2018 Nancy Pearl Award.
Rossiter attended the Rhode Island School of Design. After she graduated, she starting writing children's books before moving into contemporary fiction. Nan lives in Connecticut with her husband. They have two grown sons.
Publication Order of Coleman and Shepherd Families Books
Publication Order of Nantucket Books
Publication Order of Savannah Skies Books
Publication Order of Standalone Novels
Publication Order of Picture Books
If You Like Nan Rossiter Books, You'll Love…
The Gin & Chowder Club focuses on the friendship between the Coleman and Shepherd families. They have been friends and neighbors for many years in their Cape Cod summer homes. Drama arises when Nate Shepherd loses his wife and then finds love again with the much younger Noelle. The Coleman's college bound son Asa ends up attracted to Noelle and the feeling is reciprocated. This threatens to upend the relationship between the two families as Noelle enters into a secret affair with Asa. This book sees Asa learn some valuable lessons about love including how far people will go to keep it and the ways in which it can change our lives forever.
Nan also wrote Promises of the Heart. This is the first in a new series that tells the story of a couple struggling to start a family an the young foster girl they adopt that will change their lives forever. The young girl has a heart condition and has been kicked out of multiple foster homes. If she doesn't stick on here, it'll be on to the next one. She's not sure why she does this, but it probably has to do with her condition. Her new foster parents, Macey and Ben, take her in and slowly grow attached to her. Then she disappears and they realize just how deep that attachment goes.
Order of Books » Authors » Order of Nan Rossiter Books