Order of Octavia E. Butler Books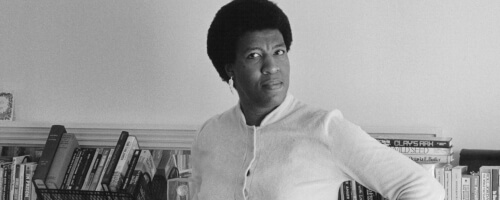 Octavia E. Butler was a legendary writer in the world of science-fiction and the first science-fiction writer to receive a MacArthur Fellowship. She is perhaps best known for her novel, Kindred which follows an African-American woman who is transported from 1976 Los Angeles to early 19th-century Maryland where she meets her ancestors. She won the Nebula Award for Best Novel in 1998 for her book, Parable of the Talents. She was also the recipient of the Lifetime Achievement Award in Writing from the PEN American Center and is an inductee into the Science Fiction Hall of Fame.
Butler was born in Pasadena, California in 1947 at a time when young black girls were not expected to become writers. The genre was dominated by white males and her mother saw her hoped that she might one day become a secretary. She had a tough childhood as she suffered from shyness and slight dyslexia. This lead to her being bullied at school and she passed her time reading science fiction at the local library. At the age of 10, her mother bought her a Remington typewriter that allowed her to begin writing more. She was 12 years old when she watched the television version of the film Devil Girl from Mars and decided that she could write a better story herself. She got to work on the story and it became the basis for what would later become her Patternist series of books.
She would attend Pasadena City College at night after high school and this is when she earned her first success in writing, winning a short story contest. This is also when the idea for Kindred came to her at a Black Power Movement event when a classmate criticized previous generations of African Americans for being subservient to whites. Butler's breakthrough would occur when she attended the Open Door Workshop of the Writers Guild of America West, a program designed to mentor minority writers. It was here that she was taught by Harlan Ellison who became a mentor to her and publisher her work in his anthology The Last Dangerous Visions that never ended up being published. She published her first novel, Patternmaster in 1976.
Publication Order of Earthseed Books
Publication Order of Patternmaster Books
Chronological Order of Patternmaster Books
Publication Order of Xenogenesis Books
Publication Order of Standalone Novels
Publication Order of Short Story Collections
Publication Order of Nnedi Okorafor Graphic Novels
(with Nnedi Okorafor)
Publication Order of Graphic Novels
Publication Order of Damian Duffy Graphic Novels
Publication Order of Anthologies
If You Like Octavia E. Butler Books, You'll Love…
Kindred is considered by many to be Butler's masterpiece. The story takes Dana, a modern black woman in the 1970s with a white husband and sends her back in time to the antebellum South. The first time she is transported she meets Rufus, the son of a white plantation owner, who is drowning. Dana travels through time to save him before being drawn back to her time. This is only her first trip and each subsequent trip will grow longer and more dangerous.
Butler's Earthseed/Parable series starts off with Parable of the Sower. The series takes place in a near future in a world that has been destroyed by drugs, disease, war, and chronic water shortages. Lauren Olamina lives with her family in a safe neighborhood on the outskirts of Los Angeles. She suffers from something called hyperempathy, a condition that makes her extraordinarily sensitive to the pain of others. Lauren holds dreams of a better world, a world she will be forced to fight for when a fire destroys her compound and she is sent out into the dangerous world.
Order of Books » Authors »