Order of Paul Gallico Books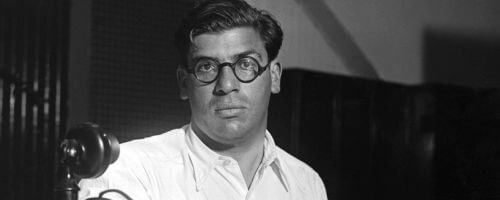 Paul Gallico is an American novelist best known as the author of the novel, The Poseidon Adventure. That book was adapted into a wildly successful film in 1972.
Gallico's career began with an interview with the famous boxer Jack Dempsey. In the interview, he asked Dempsey to spar with him and was knocked out by the champ, and he wrote about the experience. He followed that up with more interactions with sports stars and become one of the highest paid sportswriters in the country for his efforts. In sports, he would write the book, Lou Gehrid: Pride of the Yankees which went on to become a very famous film.
Publication Order of Mrs. 'Arris Books
Publication Order of Hiram Holliday Books
Publication Order of Standalone Novels
Publication Order of Short Story Collections
Publication Order of Non-Fiction Books
Publication Order of New York Review Children's Collection Books
Publication Order of Anthologies
If You Like Paul Gallico Books, You'll Love…
The Poseidon Adventure is the story of a luxury ocean liner on its maiden voyage when it is capsized by a massive undersea earthquake. The accident is fatal for many of the passengers and now a handful of survivors are in the fight for their lives. With the ship turned upside down, they struggle to make it from the upper deck of the ship to the hull which is the only part of the ship still above water. The group must do all that they can to survive before the time runs out.
Gallico is also the author of The Snow Goose. The story tells of the friendship between an artist named Phillip, living with disabilities who is living a solitary life in an abandoned lighthouse, and a young girl named Fritha. There is a snow goose, symbolic to both of them, who is wounded by a gunshot and the two help to nurse it back to health. As the friendship grows, the bird's health regenerates as well. Once healthy, the snow goose makes its returns to the lighthouse during migration for several years.
Order of Books » Authors »