Order of Philip R. Craig Books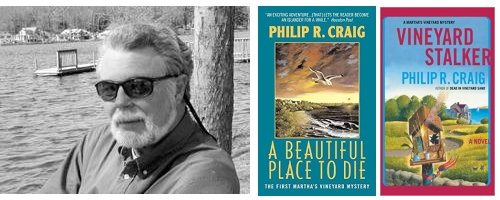 Phillip R. Craig was an American author who was best known for his Martha's Vineyard series of mystery books. He published over twenty books in life and since his passing, there have been three of his novels published posthumously.
Craig grew up on a cattle ranch near Durango, Colorado before he headed to Boston University for college. He had intended to become a minister and got his degree in 1957, but one of his professor encouraged him to try his hand at writing fiction. He would go on to work as a English and Journalism teacher at Endicott College and later at Wheelock College where he worked until 1999 before retiring to write full-time. His first novel, Gate of Ivory, Gate of Horn, was published in 1969.
Publication Order of Martha's Vineyard Mysteries Books
Publication Order of Brady Coyne/J.W. Jackson Books
(with William G. Tapply)
Publication Order of Standalone Novels
Publication Order of Non-Fiction Books
If You Like Philip R. Craig Books, You'll Love…
A Beautiful Place to Die was the first book in the long running Martha's Vineyard Mystery series. The book introduces us to a former Boston cop named Jeff "J.W." Jackson who has decided to retire as he's simply seen too much in the line of duty and wants a more peaceful life. He decides to settle in Martha's Vineyard where he'll spend his days fishing. That all changes when one day a boat mysteriously explodes out on the water with a young drifter killed. The case is fishy and Jackson finds himself drawn to investigate.
Another good book in this series is called Off Season, which is the fifth book in the series. The busy season is over in Martha's Vineyard as autumn hits. J.W. feels it's time to relax, but the locals have other ideas. The animal rights activists are fighting with the hunters while the environmentalists are beefing with the developers. Things are getting tense on all sides and when an unlikely victim is caught in the crossfires, Jackson will have to get back to work to find out why.
Order of Books » Authors »
One Response to "Order of Philip R. Craig Books"