Order of Phillip DePoy Books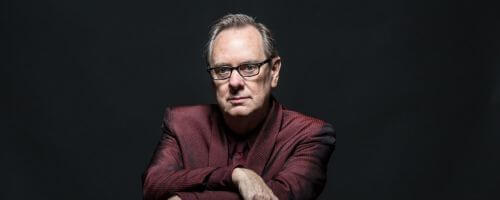 Phillip DePoy is an American author of suspense, mystery and thriller novels. He writes the Flap Tucker and the Fever Devilin series. Phillip has written for magazines such as Story, The Southern Poetry Review, Xanadu, Yankee, and more. During the '80s, he was writer-in-residence for the Georgia Council for the Arts. As composer-in-residence for the Academy Theatre he wrote music for numerous productions. During the '90s, he was the Artistic Director of Theatrical Outfit. Phillip DePoy has an undergraduate degree in English literature and folklore, and a graduate degree in performance art.
Phillip DePoy made his debut as a novelist in 1997 with the novel Easy (aka Easy Does It). Below is a list of Phillip DePoy's books in order of when they were oirginally released:
Publication Order of Christopher Marlowe Books
Publication Order of Fever Devilin Books
Publication Order of Flap Tucker Books
Publication Order of Foggy Moskowitz Books
Publication Order of Standalone Novels
Publication Order of Plays
Publication Order of Non-Fiction Books
Publication Order of Anthologies
Note: Easy was also published as Easy Does It.
If You Like Phillip DePoy Books, You'll Love…
Phillip DePoy Synopsis: The King James Conspiracy is a standalone title by Phillip DePoy. "The turning of the wheel by the tilling of the wheat." With these cryptic words, a conspiracy is set into motion that threatens the new translation of the Bible ordered by King James I, and the lives of the scholars working on it. In 1605, in Cambridge England, a group of scholars brought together to create a definitive English translation of the Bible finds one of its members savagely murdered by unknown hands. Deacon Marbury, the man in charge of this group, seeks outside help to find the murderer, to protect the innocents and their work. But the people who offer to help are not who they claim to be and the man they send to Marbury – Brother Timon – has a secret past, much blood on his hands, and is an agent for those forces that wish to halt the translation itself. But as the hidden killer continues his gruesome work, the body count among the scholars continues to rise. Brother Timon is torn between his loyalties and believes an even greater crisis looms as ancient and alarming secrets are revealed – secrets dating back to the earliest days of Christianity that threaten the most basic of its closely held beliefs.
Order of Books » Authors » Order of Phillip DePoy Books