Order of R. Allen Chappell Books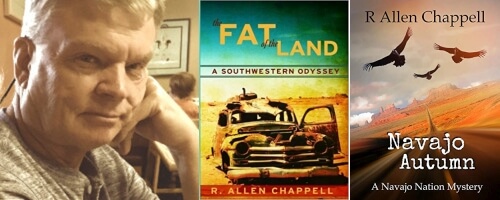 R. Allen Chappell is an American author best known for his Navajo Nation series of books. R. Allen grew up with the Navajo, went to school with the Navajo, and eventually worked alongside them. He forged many great friendships with the Navajo along the way and those relationships were the ultimate inspiration for his series.
Chappell lives in Western Colorado and he spends his winters on a small sailboat in Mexico. He has had a lifelong interest in the prehistory of the Four Corners region and its people. His books are fiction, but he always makes a concerted effort to maintain the accuracy of the culture and people as he has come to know them. In addition to his books, Chappell's writings have appeared in many magazines, literary and poetry publications, and he has been featured on public radio and television.
Publication Order of Navajo Nation Mystery Books
| | | |
| --- | --- | --- |
| Navajo Autumn | (2013) | |
| Boy Made of Dawn | (2013) | |
| Ancient Blood | (2014) | |
| Mojado | (2015) | |
| Magpie Speaks | (2016) | |
| Wolves of Winter | (2016) | |
| The Bible Seller | (2017) | |
| Day of the Dead | (2018) | |
| The Collector | (2019) | |
| Falling Girl | (2020) | |
| Yellow Dirt | (2021) | |
| DeadFall | (2022) | |
| Billy Moon | (2023) | |
Publication Order of Collections
If You Like R. Allen Chappell Books, You'll Love…
Navajo Autumn is the first book in the Navajo Nation Mystery series. The story begins with a drunk found under La Plata Bridge. This isn't unusual for Thomas Begay, but what is unusual is the dead body of BIA investigator Patsy Greyhorse laying next to him. Thomas is accused of murder and his long-time friend Charlie Yazzi, fresh out of law school, will put his career on the line to try and help clear his old friend's name.
Another great book in the series is called Falling Girl. The story follows Harley Ponyboy who is perpetually down on his luck. Evil dogs his every step and he thinks his luck has changed when a lucky lottery tickets comes his way. Harley uses the money to search for a lost love—only to find she has fallen to appalling depths. He is undeterred though and his stubbornness will put her on a collision course with his own mortality.
Order of Books » Authors »