Order of R.L. Mathewson Books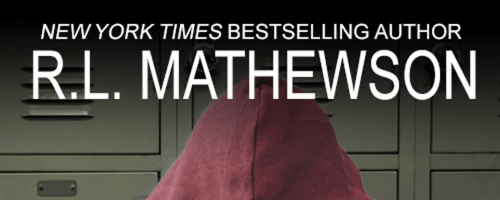 R.L. Mathewson is an American author of paranormal and contemporary romance novels. She writes the Honeymoon from Hell, Neighbor from Hell, and Pyte/Sentinel series, and is a New York Times bestselling author. R.L. grew up a shy bookworm and didn't get over it until she became an EMT. She uses the experiences she had in that job – good and bad – in some of her fiction. R.L. has two children, and addictions to romance novels and hot chocolate.
R.L. Mathewson made her debut as a novelist in 2010 with Tall, Dark & Lonely, beginning her Pyte/Sentinel series. Below is a list of R.L. Mathewson's books in order of when they were originally published:
Publication Order of Anger Management Books
Publication Order of Cursed Hearts Books
Publication Order of EMS Books
Publication Order of Hollywood Hearts Books
Publication Order of Honeymoon From Hell Books
Publication Order of Neighbor From Hell Books
Publication Order of Neighbor From Hell YA Series Books
Publication Order of Pyte/Sentinel Books
Publication Order of Standalone Novels
Publication Order of Collections
Publication Order of Non-Fiction Books
If You Like R.L. Mathewson Books, You'll Love…
R.L. Mathewson Synopses: Devastated is the first Anger Management novel by R.L. Mathewson. An assistant was the last thing Hunter O'Mallery needed, but he has one because of a deal he never should have made. He was content to ignore her as long as she stayed out of his way; however, now that she has caught his attention, he can't stop thinking about her. She didn't want to attract his attention, but she did.
While Kylie Davis cannot escape her past, everyone has something they wish they could forget. It follows her everywhere with the intention of destroying her and ensuring that she pays for the one thing for which her family could never forgive her. Getting born.
In Sudden Response by R.L. Mathewson, the Echo 17 EMT crew members Josephine (or Joe for short) and Eric have been best friends since they were eight years old. They've been through a lot with each other over the years, but nothing like this one. Eric has a responsibility to care for Joe, the only man in her life, even when he makes her crazy, especially if he's making her crazy. He would do anything for her, and when things get bad, he decides that maybe Joe should move on, but could he?
Playing For Keeps is the first Neighbor From Hell novel by R.L. Mathewson. Haley decides that things are going to start changing because she is fed up with being the biggest jerk in the world. She was going to immediately put an end to everything that her irritating neighbor had forced her to go through. Haley had no idea she would be drawn into his world, but she has a plan and will never forget what the bad boy next door can do. Jason didn't anticipate his shy little neighbour going Rambo on him over some damaged flowers, but once he realized what he'd been missing, he quickly got over it. He can't help but notice how well she fits into his life after he decides to take her under his wing.Now all that was left to do was persuade her that this wasn't just a game.
Tall, Dark & Lonely by R.L. Mathewson is the first Pyte/Sentinel novel. Madison is forced to move or risk losing her family when the mother who abandoned them years ago suddenly shows up and moves them to New Hampshire. She tries to provide for her siblings, putting her goals aside once more, only to discover that nothing is going as planned. It's very chilly. In training, her fifteen-year-old sister acts like a sex worker. She is surrounded by funny men. She has a really mean boss. She is perceived as an outsider. Her best friend turns out to be a mouthy 16-year-old kid, and the extremely handsome man who is renting the room next to her not only takes three showers a day and leaves her with cold water, but he also has a secret – a secret about which she develops a certain degree of obsession and is unable to let go, despite numerous warnings to the contrary.
Detective Ephraim Williams has always been taught not to show any emotion or to get attached to other people. Why did it matter? He remained while they moved on. He reasoned that nothing would differ this time around. He didn't expect much when his landlord told him that her grandchildren were moving in, other than to be left alone. He had no idea that he would have to fight bloodlust every time he smelled his delectable neighbour's blood or that she would be asking him questions every time she cornered him. As if that weren't bad enough, a Master from his past has found him once more and is looking for his blood. He is willing to do anything to get it, including using the pretty, annoying neighbor who, for the first time in centuries, makes him feel more than pain.
Order of Books » Authors »