Order of Raymond Nickford Books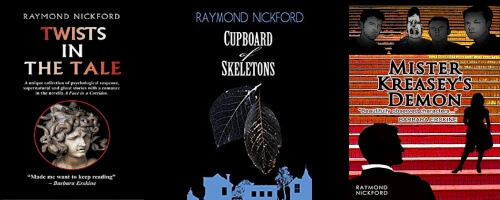 Raymond Nickford is a fiction author who writes dark, macabre stories. He is best known for his series of books called Let Storm Clouds Pass. That series started in 2004 with the release of Mister Kreasey's Demon.
Nickford attended the University College of North Wales where he earned a degree in philosophy and psychology. He worked for many years as a tutor for students and this has even shown up in his work. Nickford believes that his love for writing grew during the time that he was teaching which ultimately inspired him to begin work on his first novel.
Publication Order of Let Storm Clouds Pass Books
| | | |
| --- | --- | --- |
| Mister Kreasey's Demon | (2004) | |
| Aristo's Family | (2004) | |
| A Child from the Wishing Well | (2011) | |
| Cupboard of Skeletons | (2013) | |
Publication Order of Collections
If You Like Raymond Nickford Books, You'll Love…
Mister Kreasey's Demon is the first book in the Let Storm Clouds Pass series. The book begins with a teacher who is being broken by his students. The students are street-hardened and he's simply not ready for that and finds himself reduced to paranoid. While he has a tough times with his students, Amy is one that has tried to help him. The two had a relationship and she saw his sensitive side, but the other students all seem to want to take him apart for his sensitivity. This book is psychological suspense from a man with a degree in it.
Nickford also wrote Family Tree: Stories of Love Beyond the Grave. This book starts whith the body of Eddy's mother found tangled in the roots of a rotting ancient yew. Now, Eddy believes that the tree – or his mother – is calling to him. His father dismisses it, blaming it on grief, but Eddy can't stop hearing the tree calling to him. Eddy is torn between listening to his father or his "mother" and going to the cemetery side of the fence. A unique take on how people deal with loss.
Order of Books » Authors » Order of Raymond Nickford Books