Order of Richard Powers Books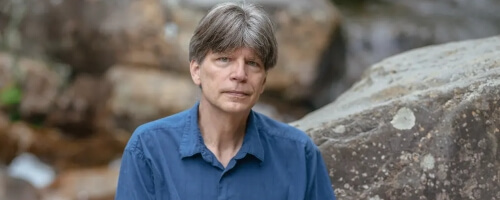 Richard Powers is an American novelist who is best known for writing about the effects of modern science and technology. One of his most well-known novels is The Echo Maker which was the 2016 National Book Award for Fiction. He is also the author of The Overstory which won the Pulitzer Prize for Fiction in 2019.
Powers attended the University of Illinois at Urbana–Champaign where he earned his BA and later his MA in Literature. He graduated in 1980 and decided to forgo pursuing his PhD as he felt that many graduate students and professors didn't find pleasure in reading or writing which is something that he didn't want for himself. He made his debut in writing with Three Framers on Their Way to a Dance which was published in 1985.
Publication Order of Standalone Novels
| | | |
| --- | --- | --- |
| Three Farmers on Their Way to a Dance | (1985) | |
| Prisoner's Dilemma | (1988) | |
| The Gold Bug Variations | (1991) | |
| Operation Wandering Soul | (1993) | |
| Galatea 2.2 | (1995) | |
| Gain | (1998) | |
| Plowing the Dark | (2000) | |
| The Time of Our Singing | (2002) | |
| The Echo Maker | (2006) | |
| Generosity | (2009) | |
| Orfeo | (2014) | |
| The Overstory | (2018) | |
| Bewilderment | (2021) | |
Publication Order of Anthologies
If You Like Richard Powers Books, You'll Love…
The Echo Maker is one of Richard Powers' most popular novels. The book starts with Mark Schluter driving on a Nebraska road on a winter night when he flips his truck and nearly dies. He has a traumatic head injury and his sister Karin, his only family, returns to their hometown to help get him back to health. When Mark awakens from his coma, he believes that this woman is not his sister but an identical impostor. Karin is hurt by this and brings in a cognitive neurologist named Gerald Weber to help with her brother. He has a belief of what is wrong with him, but Marks behavior undermines much of what he believes. While Mark himself attempts to learn what happened to him on the night of the accident and the truth will change the lives of all three of them.
The Pulitzer Prize winning The Overstory is a sweeping work of activism and resistance. The story is about the essential conflict our planet Earth – the battle between humanss and nonhumans. The story focuses on a handful of people who are summoned in different ways by trees and then brought together in a violent stand to save the continent's remaining acres of untouched forest. The book seeks to answer the important question of our world:if the trees of this earth could speak, what would they tell us?
Order of Books » Authors » Order of Richard Powers Books