Order of Robert Ludlum Books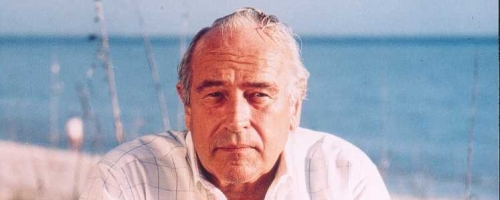 Robert Ludlum (1927-2001) was an American author who has written dozens of thrillers. He is perhaps best known for his Bourne Trilogy novels, which were made into movies starring Matt Damon.
Ludlum started writing in the '70s. During that time, he was living in Leonia, New Jersey and spent hours every day writing. The lion's share of his work was published in the '70s. After which, he noticably slowed down. Ludlum also published novels under the pen names of Jonathan Ryder and Michael Shephard. Following his death in 2001, his characters lived on through other authors such as Eric Van Lustbader. Ludlum is now a brand name, with novels inspired by his work trademarked as "Robert Ludlum's" novels.
Below is a list of Robert Ludlum's books (whether written by him or based on his notes) in order of publication:
Publication Order of Jason Bourne Books
Publication Order of Covert-One Books
Publication Order of Matarese Dynasty Books
Publication Order of Paul Janson Books
Publication Order of Road to Books
Publication Order of Treadstone Books
(with Joshua Hood)
Publication Order of Standalone Novels
Notes: Although the Covert-One series was created by Ludlum, the novels themselves were written by other authors.
Following Ludlum's death, the Jason Bourne series was continued by American author Eric Van Lustbader and Brian Freeman.
If You Like Robert Ludlum Books, You'll Love…
Robert Ludlum Synopses: In Robert Ludlum's second book The Osterman Weekend, investigative news TV show host John Tanner is informed by a CIA agent that his friends are involved in a group that is threatening national security. John loses his trust in his friends and has been put against them. However, John finds out the truth about his friends, it turns out he has been manipulated. The Osterman Weekend was made into a film in 1983 by the great director Sam Peckinpah. It had an all-star cast that included Rutger Hauer and Dennis Hopper.
The Matlock Paper is a standalone novel by Robert Ludlum. College professor and Vietnam veteran James Barbour Matlock's name is selected to stop a large-scale conspiracy on an undercover mission that is going to put his life in danger. But the anonymous men working behind the scenes don't care if it means murdering the woman he loves or putting him in a maze of unstoppable terror. Only one thing concerns them: The reason Matlock is the ideal candidate for the position is alarming, explosive, and extremely lethal.
Trevayne is a standalone title by author Robert Ludlum (originally written as Jonathan Ryder). Title character Andrew Trevayne is a self-made millionaire who has never been swayed by fear. He used to be an undersecretary of state and is now the head of one of the most prestigious foundations in the country. Trevayne now conducts an investigation into the "secret government" at the president's explicit request, and he soon finds himself swept up in a tsunami of danger and intrigue. He discovers a nightmare maze beyond the corridors of official power, where billionaires and Mafia lords mix, where evil forces are poised to carry out a chilling conspiracy, where Congress and even the presidency can be bought and sold, and where survival depends on a hair trigger. A man like Trevayne can easily become a king, an enemy, or a pawn in this world.
Order of Books » Authors »
2 Responses to "Order of Robert Ludlum Books"