Order of Robin Hobb Books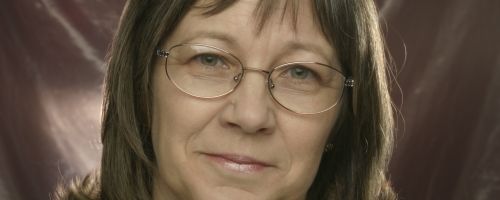 Robin Hobb is the best-known pseudonym of American novelist Margaret Astrid Lindholm Ogden. Ogden mostly writes fantasy novels, but has also written some science fiction. She is best known for her The Realm of the Elderlings novels, which is actually a universe consisting of several different small series. Ogden's other pseudonym is Megan Lindholm, which she used from 1983 until 1992.
Her first novel was Harpy's Flight, published in 1983. Since that time, she has written several different series of books. Below is a list of Robin Hobb/Megan Lindholm's novels in order of when they were originally published and in chronological order:
Publication Order of Farseer Books
Publication Order of Liveship Traders Books
Publication Order of Tawny Man Books
Publication Order of Rain Wild Chronicles Books
Publication Order of Fitz and The Fool Trilogy Books
Publication Order of Soldier Son Trilogy Books
Publication Order of Standalone Novels
Publication Order of Short Story Collections
Publication Order of Liavek Books
Publication Order of Anthologies
Notes: The Ki and Vandien and the Tillu and Kerlew series as well as the standalone novels Wizard of the Pigeons, Cloven Hooves, Alien Earth and The Gypsy were written under the pen name of Megan Lindholm.
The Gypsy was written with co-author Steven Brust.
If You Like Robin Hobb Books, You'll Love…
Robin Hobb Synopses: Assassin's Apprentice by Robin Hobb is the first book in the Farseer Trilogy. Young Fitz is the bastard son of the noble Prince Chivalry. His stern stableman raised him in the shadow of the royal court. He is regarded as an outcast by all of the royalty, with the exception of the devious King Shrewd, who secretly instructs him in assassination skills. Because the magic skill and the darker knowledge of a child who was rejected by his family and raised with stable hounds are both in Fitz's blood.
Fitz is maturing into a man as the coasts are ravaged by barbaric raiders. He will soon embark on his first dangerous and life-altering mission. In addition, despite the fact that he poses a threat to the throne, he might just be the key to the kingdom's continued existence.
Cloven Hooves is a standalone title by Megan Lindholm. Evelyn is a child who prefers to wander the woods in all weathers rather than interact with others. Her secret is a great friend:she plays with in the woods with a faun. When the family moves to Tacoma and her husband is asked to fill in at his father's business, Evelyn finds happiness as a wife and mother years later. The desire of Evelyn's husband for them to remain with his family forever causes rifts between them, and a terrible tragedy further complicates matters. Amazingly, Evelyn's childhood friend shows up in Tacoma when she needs a friend. She eventually falls in love with Pan, an adult satyr who is a secret friend of both her and her son. He takes Evelyn on a journey from her failed marriage to happiness in the Alaskan woods.
Ship of Magic by Robin Hobb is the first book in the Liveship Traders series. A sentient wood called wizardwood. The most valuable thing in the world. It is exclusive to the Rain River Wilds, as are many other legendary goods. However, when the Rain River's treacherous waters can only be navigated by a wizardwood-constructed liveship, how can one conduct business with the Rain Wilders? A liveship, which is rare and valuable, will only speed up after three members from successive generations die on board. As Althea Vestrit's dying father is carried on deck, the liveship Vivacia is about to undergo her quickening. Althea is patiently awaiting the awakening of the ship that she adores more than anything else in the world. Only to find out that her father left the Vivacia to her brutal brother-in-law, Kyle Haven, in his will. Other people are plotting to get or steal a liveship. Many people refer to the Paragon as the Pariah because he went mad, became a turtle, and drowned his crew. He is now blind, alone, and broken as he lies on a deserted beach. However, avaricious men intend to restore him and enable him to once again navigate the Rain Wild River.
Order of Books » Authors » Order of Robin Hobb Books