Order of Rosemarie Ross Books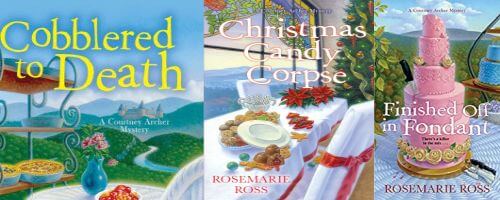 Rosemarie Ross is an author of cozy mysteries. She is best known for writing the Courtney Archer Mystery series which is set around the filming of a popular television baking competition.
Ross is actually a pen name and she writes books in under genres under the name of Rose Ross Zediker. Her works have been finalists for the RITA, National Reader's Choice, Booksellers Best and Book Buyers Best awards. Rosemarie got her start writing short stories and articles. She was first published in 1994 when her short story, Someone is Watching was released.
Publication Order of Courtney Archer Books
If You Like Rosemarie Ross Books, You'll Love…
Cobblered to Death is the first book in the Courtney Archer series. Archer is hosting the show "Cooking with the Farmer's Daughter" despite the fact that she is actually a pediatrician's daughter. Her next hosting job sees her as the host of "The American Baking Battle". She thinks that this reality show will help her to develop a more authentic image. The show isn't usually a place for drama, but there is drama heating up behind the scenes. One of the contestants finds out about Courtney's fake farm-girl story which gives her stress. That stress gets worse when the contestant is found dead with Courtney as the chief suspect.
The series took a turn towards Christmas with Christmas Candy Corpse. This book sees Courtney detecting some on-set Grinch behavior from her co-workers, especially from judge Shannon. When assistant director Kinzy is found strangled with one of Shannon's aprons, the Christmas spirit leaves the building. Shannon declares her innocence and Courtney seeks to find out the truth. Kinzy had been dealing with a real estate matter with her late grandfather that had been a source of pressure. Is that enough reason to murder her? Courtney will do her best to find out.
Order of Books » Authors »