Order of Ruth Downie Books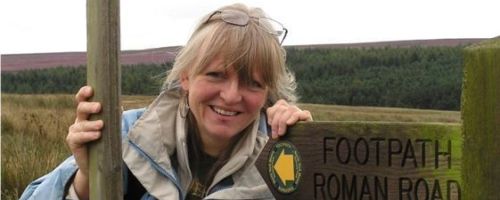 Unlike a lot of authors, Ruth Downie didn't always want to be a writer or even see that as a career path for herself. She was content to get married, settle down and have some children of her own; to live happily ever after. It wasn't until a family vacation that she got the itch and came up with what would become the Medicus Investigation series.
A trip to Hadrian's Wall on holiday with the family is what started it all when she read that the Roman soldiers were allowed to have relationships with local women, but they were not allowed to marry them. This struck her as a great premise for a story and she started to research Roman Britain as well as how to write a novel. Soon, Medicus and the Disappearing Dancing Girls was born.
Publication Order of Medicus Investigation Books
Publication Order of Short Stories/Novellas
(with S.J.A. Turney)
Publication Order of S.J.A. Turney Short Stories/Novellas
(with S.J.A. Turney)
Publication Order of Anthologies
If You Like Ruth Downie Books, You'll Love…
The first book now known as Medicus takes us to Britannia in the Roman Empire. We are introduced to Gaius Petrius Ruso who is an army doctor and divorcee. After a particular long shift working the army hospital, he ends up saving a slave girl from her abusive owner. She's trouble on her own, but leads him into more trouble as he gets caught up in the middle of a murder investigation of some dead prostitutes. It's up to Ruso to discover the truth as the doctor becomes detective.
Terra Incognita is the second book in the series. This book sees Ruso head to edge of the Roman Empire to replace a demented doctor. He brings his slave girl along which is again nothing but trouble for him as her tribe is looking to rebel against the Roman Empire. When his slave girl Tilla's former lover is accused of murder, Ruso is once again honor bound to try and solve the case.
Order of Books » Authors » Order of Ruth Downie Books