Order of Sally Hepworth Books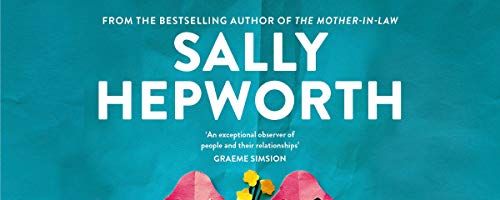 Sally Hepworth is a bestselling author best known for writing The Good Sister and Mother In Law. She had Mother In Law optioned for a TV series by Amy Poehler.
Hepworth lives in Melbourne, Australia with her husband and their children. In her writing, Sally tries to draw on the good, the bad, and the odd facets of human behavior. Her books explore themes like family, relationships, and identity. For her domestic thrillers, she manages to lighten them with quirky humor, sass and a darkly charming tone.
Publication Order of Standalone Novels
| | | |
| --- | --- | --- |
| The Secrets of Midwives | (2015) | |
| The Things We Keep | (2016) | |
| The Mother's Promise | (2017) | |
| The Family Next Door | (2018) | |
| The Mother-in-Law | (2019) | |
| The Good Sister | (2021) | |
| The Younger Wife | (2021) | |
| The Soulmate | (2023) | |
Publication Order of Getaway Books
| | | |
| --- | --- | --- |
| Uncharted Waters | (2022) | |
| His Happy Place | (2022) | |
| Belle Mer | (2022) | |
| Stockholm | (2022) | |
| Catch Her in a Lie | (2022) | |
| Shell Game | (2022) | |
If You Like Sally Hepworth Books, You'll Love…
The Good Sister is about Fern Castle and her sister Rose. Fern is a librarian who has her sister over for dinner three nights a week. Fern prefers to avoid crowds and loud noises as much as she can, and has a highly structured life. Any disruption of her routine can be dangerous. Rose gets some bad news when she finds out that she cannot get pregnant. Fern sees this as her chance to pay back her sister for all that she has done for her. All she needs to do is find a father and she can have a baby for her sister. However, this mission will shake up her structured life and bring up many dark secrets from the past.
Sally is also the author of Mother In Law. Lucy has always known that she wasn't the wife that her mother-in-law envisioned for her son. Diana is always polite, but she keeps her at arm's length and doesn't get close. Diana is considered a pillar in the community who no one has a bad thing to say about, except for her daughter-in-law. Now, five years later, Diana is dead of an apparent suicide. The note says she did it because of the cancer that is killing her, but an autopsy shows no cancer. What it does show is poison. Who could want Diana dead? And why did she change her will just before her death?
Order of Books » Authors » Order of Sally Hepworth Books